With the immense growth of solar energy occurring around the world, many jobseekers and career changers are trying to keep up with the pace and find the newest solar jobs near them. It can seem a little overwhelming, especially if you're new to solar and less familiar with the various types of solar jobs and solar energy systems. But we can help you with how to find a solar job.
To learn more about the solar workforce, including the employment outlook, available certifications, and how to add solar to your business, see our Getting Started With Solar series.
If you're ready to view our resources for how to find a solar job, keep reading!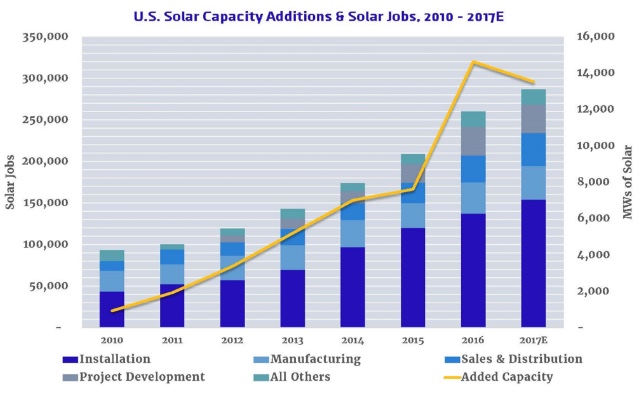 We've identified our top resources for finding a job in solar.
In no particular order, here are some outlets you should consider when looking for a solar energy job:
Solar Training Network
The Solar Training Network is a relatively new tool funded by the U.S. Department of Energy's SunShot Initiative. The program is designed to help meet the workforce needs of the solar industry through solar training and strategic employment partnerships. The Network's career platform provides a connection hub for solar jobseekers, solar companies looking for new hires, solar training providers (like Everblue!), and workforce development boards.
Solar Energy Industries Association
The Solar Energy Industries Association (or SEIA) is a national trade association in the U.S. that represents organizations that promote, manufacture, install, and support the development of solar energy. SEIA works with 1,000 member companies to expand America's solar market, strengthen the industry, and remove barriers. Its member companies consist of installers, project developers, manufacturers, contractors, financiers, and non-profits. The SEIA Career Center is a great place to post your resume and search through the newest and best solar industry jobs.
Solar Power Events
Powered by SEIA and the Smart Electric Power Alliance, you get a website simply known as Solar Power Events. Professionals working in the solar industry are likely familiar with the biggest event from this partnership – Solar Power International (SPI). SPI is North America's largest solar trade show. Why is this event site a good resource for your solar job search? Attend these solar events, and you'll be networking with respected, experienced solar industry professionals who may be looking to hire or who can refer you to a colleague who is hiring. Never underestimate the power of networking!
American Solar Energy Society
The American Solar Energy Society, or ASES, is a non-profit organization that advocates for sustainable living and 100% renewable energy. As the U.S. section of the International Solar Energy Society (ISES), ASES works with individuals and groups around the world to accelerate the transition to a renewable energy and sustainable living society. In addition to its Jobs Board, ASES also connects solar and renewable energy communities through regional chapters in 42 locations and 9 student chapters at colleges across the country.
North American Board of Certified Energy Practitioners
Committed to providing certification programs to solar industry professionals, the North American Board of Certified Energy Practitioners is very well-known in the industry as simply NABCEP. NABCEP is a non-profit organization that promotes renewable energy and worker proficiency through testing and certification. Aside from its credentialing program, NABCEP also offers a Career Center with benefits that range from posting your resume and applying for jobs to receiving career coaching and resume writing services.
Renewable Energy World
RenewableEnergyWorld.com also offers solar articles and resources. The website was started in 1999 by a group of renewable energy professionals who wanted to share their knowledge and passion with the world. To this day, the Renewable Energy World website offers daily renewable energy news, information about products, and Renewable Energy Job Opportunities.
Solar Jobs USA
Solar Jobs USA is a provider of professional staffing and recruiting services to organizations throughout the semiconductor and solar industry. Its staffing service offers cost-effective job posting, candidate sourcing, recruiting, screening, contingent placement, and onsite staffing for global organizations. It would probably be best to send your resume to the Solar Jobs USA staffing team and follow them on Twitter. Jobseekers can also find New Solar Job Postings on their website.
Energy Central Jobs
The EnergyCentralJobs.com website is a platform for jobseekers and employers. As a jobseeker, you'll be able to create a profile, post a resume, upload photos, post a video resume, and interact with top employers in the power industry. In addition to reviewing the Featured Jobs on the website, you can subscribe to weekly email alerts of new jobs that have been posted. Instant job alerts on the website can also be set up without creating a profile.
Honorable Mentions
Speaking more generally, the following tips may prove valuable for solar jobseekers:
Attend solar job fairs
Attend trade shows/conferences & network with solar professionals
Volunteer with GRID Alternatives
Use traditional job search sites – Indeed, CareerBuilder, Monster, Zip Recruiter, LinkedIn, Craigslist, GlassDoor
Research local or favorable solar companies & monitor their hiring pages and social media sites
How to Find a Solar Job – It Starts With Solar Training
Remember – oftentimes, the first step to a solar job is solar training.
Everblue's PV101 Solar Associate webinar offers a strong foundation in understanding solar energy terms, electricity principles, and safety basis. This convenient and affordable online training directly qualifies an individual for the first-tier solar credential from NABCEP called NABCEP PV Associate. This type of training and professional credential is a foot-in-the-door to the solar industry, qualifying you for a wide range of jobs.
If you want to keep in stride with solar development, you might consider the PV201 Solar Installation training program, which includes a hands-on solar panel installation training segment. You'll walk away with knowledge and real-life skills to take with you to your first solar job.
For more information on how to find a solar job, call us at (800) 460-2575 or continue browsing our solar articles.
Photo courtesy of solarstates.org