Many people wonder, "How hard is the LEED exam?" Well, that's a subjective question, isn't it? Gauging LEED exam difficulty depends on your work experience and familiarity with the subject matter.
And yet, there are some facts about the LEED exam that make it inherently challenging, which we'll get into below.
But a realistic answer from me to you about LEED exam difficulty, is this: You'll get a different answer from each person you ask because the answer depends on…
a candidate's level of experience
time spent studying
general confidence in test-taking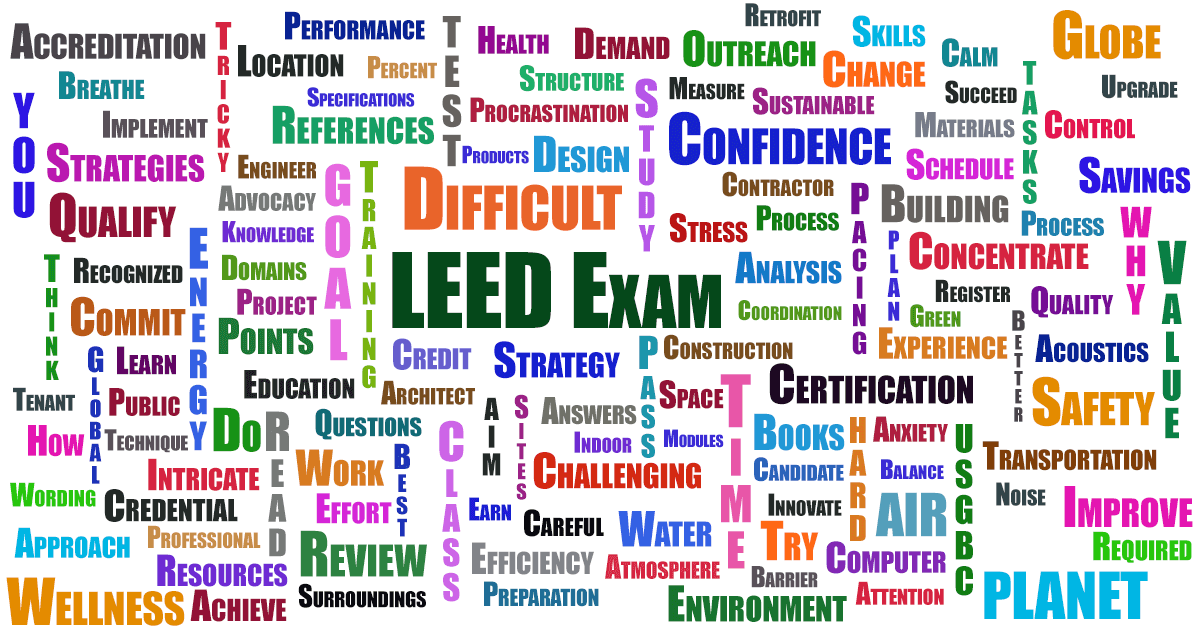 LEED Exam Pass Rate
And if you're wondering about the pass rate for the LEED exam, unfortunately the U.S. Green Building Council (who created the LEED standards and exam) does not release official pass rates.
The U.S. Green Building Council (USGBC, for short) likes to keep the exam a mystery, as in…
you have to score a 170 out of 200 to pass but questions are weighted differently, so there's no magic number as to how many questions you have to answer correctly
there are 15 unscored questions on the exam (that USGBC will evaluate for experimental purposes), but you won't know which questions are scored and which are unscored
there are 1000+ questions in the pool to form your 100-question exam, so no two exams will have the same questions in the same order.
Why It's Challenging
I can tell you that the LEED exam is challenging from the standpoint that it forces candidates to balance:
subject-matter expertise (LEED)
time management skills
test-taking strategy
The most successful candidates are able to equally balance all three. So if you know that you're weak in one of those areas, it's important that you work on cultivating that skill set.
How To Be Successful
Our LEED Exam Prep training is designed to improve those skills; not only will we teach you everything you need to know to pass the LEED exam from a content standpoint, but we'll also share best practices for managing your time and approaching the test questions.
And by the way, though a background in architecture or construction will certainly be helpful, do know that the LEED exam is NOT an occupational licensing exam (i.e., the ARE exam for architects or a PE exam for engineers).
This internationally-recognized exam is wholly devoted to Leadership in Energy & Environmental Design (LEED) concepts, such as:
the LEED building certification process
LEED rating system structure
LEED credit requirements, etc.
In other words, you need to learn the LEED terms and processes, regardless of your occupation, if you want to do well on the exam!
Candidates with backgrounds in Accounting, Political Science, and Marketing have taken our LEED Green Associate Exam Prep, followed our 30-day study pacing guide, and passed their exams on schedule. You can do it too!