A blog by Joan Glickman of the Department of Energy indicated that there is a 1 in 3 chance that a newly built home in the United States comes with an energy label comparing it to energy code. The label being referenced is the RESNET HERS Score.
It has been difficult to find a similar rating for existing homes, but a new policy that went into effect on January 25, 2016 extends the Federal Housing Administration's (FHA's) Energy Efficient Homes (EEH) policy – historically limited to new homes – to existing homes.
What this means is that homebuyers can now have their real estate agent request a Home Energy Score from the seller or have a home scored during inspection as a way of knowing how much a home's utility bills will be. See full article here.
You'll notice that the RESNET HERS Score refers to new homes. The RESNET program has been active for the last 20 years. A newcomer to the industry is the Home Energy Score, which debuted less than 5 years ago. Let's take a look at the Home Energy Score and see how it differs from the RESNET HERS Score.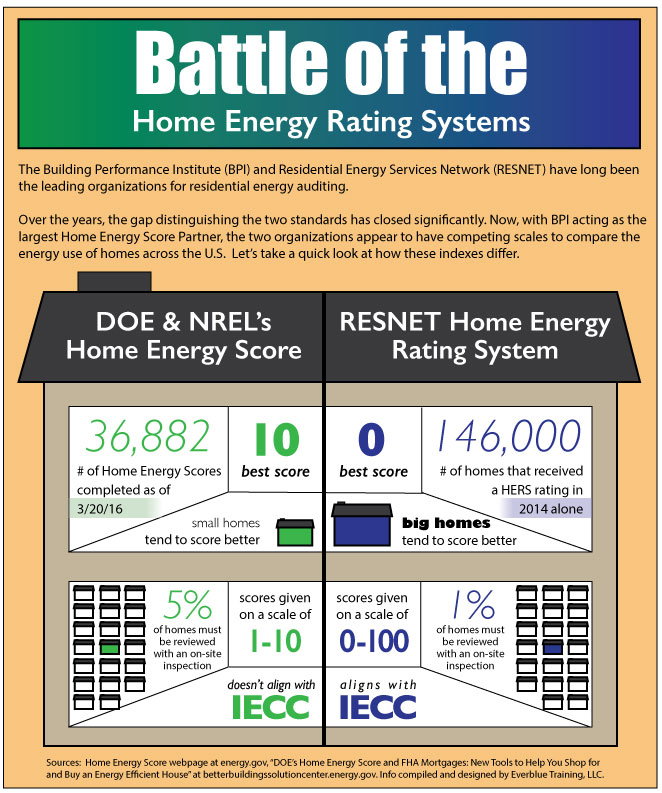 Background
Home Energy Score – The U.S. Department of Energy, in collaboration with the Lawrence Berkeley National Laboratory (NREL), developed the Home Energy Score as a low-cost and reliable method for estimating the energy use of a home and motivating investment in efficiency improvements.
In Fall 2009, the Vice President and the White House Council on Environmental Quality called upon the Department of Energy (DOE) to create a system that enabled homeowners to easily and affordably find out how their homes' energy performance compare with other homes nationwide. DOE launched a pilot program, which ran from November 2010 to July 2011. Using the results of the pilots and other research, DOE created the Home Energy Score.
RESNET HERS – A group of mortgage industry leaders got together to set up the National Shelter Industry Energy Advisory Council to establish a way to measure the financial savings generated by energy-efficient features in a home and to credit that home's energy efficiency in the mortgage loan.
In April 1995, representatives of the national mortgage industry, the National Association of State Energy Officials, and Energy Rates Homes of America founded the Residential Energy Services Network, or RESNET. RESNET's task was to develop national standards for home energy ratings and to create a market for home energy rating systems and energy mortgages.
How It Works
Home Energy Score – A Home Energy Score Assessor collects energy information on existing homes during an hour-long home walk-through and scores a home on a scale of 1 to 10.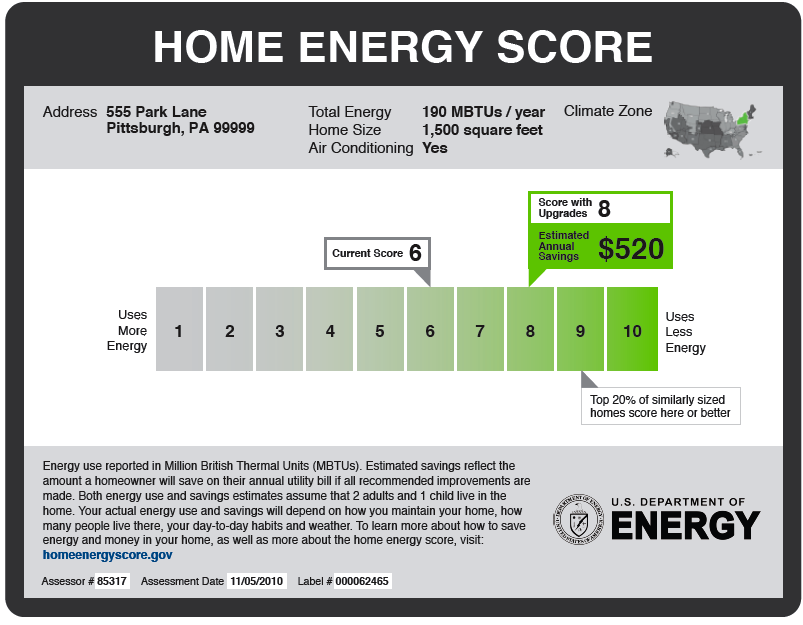 A score of 10 indicates that the home has excellent energy performance, corresponding with the amount of energy used by the 12% lowest energy-consuming homes. A score of 1 indicates that the home needs extensive energy improvements, corresponding with the amount of energy used by the 20% highest energy-consuming homes.
The Home Energy Score includes:
The Score itself
Facts about the home, including 40 pieces of data and an energy use breakdown
Recommendations to improve the Score and the energy efficiency of the home
The Score only considers the home's fixed attributes (walls, windows, heating, cooling, and water heating systems) and applies standard assumptions about occupant behavior to all homes. Homeowners may follow up this walk-through with a more extensive whole-house energy audit that includes blower door testing and gives consideration to occupant behavior on a more personalized level.
RESNET HERS – A certified RESNET HERS Rater collects energy information from blower door and duct leakage testing and visual inspection of the home's systems to assign a relative performance score. The score is based on the Home Energy Rating System (HERS) Index. The lower the number, the more energy efficient the home.
The DOE has determined that a typical resale home uses 130 on the HERS Index while a standard new home is awarded a rating of 100.
A home with a HERS Index Score of 70 is 30% more efficient than a standard new home
A home with a HERS Index Score of 130 is 30% less efficient than a standard new home
To calculate a home's HERS Index Score, the HERS Rater does an energy rating on a home and compares the data against a "reference home" – a designed-model home of the same size and shape as the actual home, so the score is always relative to the size, shape, and type of house being rated.
A home with a HERS Index Score of 0 is a Net Zero Energy Home. This means that this home produces as much energy through renewable resources, such as solar panels, as it consumes.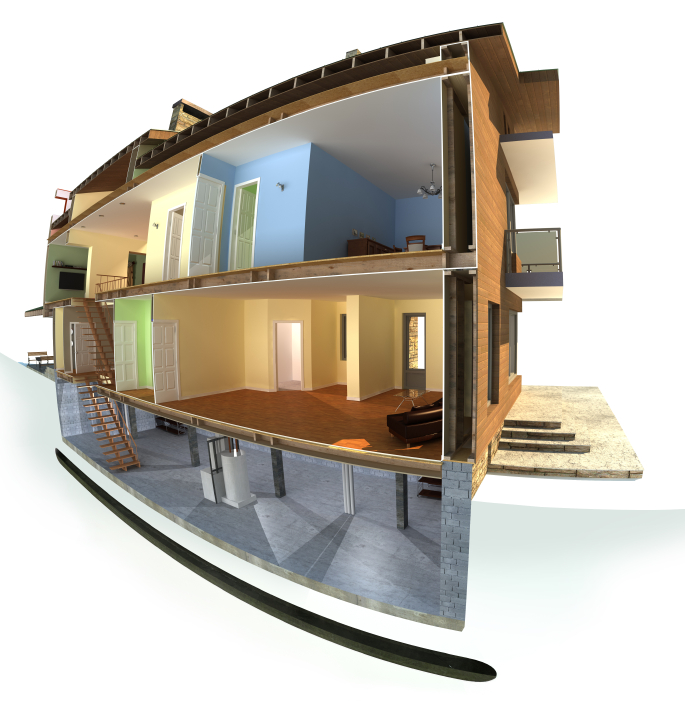 How Professionals Earn the Certification
Home Energy Score – Home Energy Score Assessors must:
hold a relevant credential, such as BPI Building Science Principles, BPI Building Analyst, BPI Envelope, HEP Energy Auditor, HEP Quality Control Inspector
score an 80% or better on a 20-question written exam about the Home Energy Score
score an 80% or better on three "Challenge/Practice" homes
score a 90% or better on two test homes
be accompanied by a "mentor" during their first home walk-through
Among the range of BPI certifications, a minimum designation of BPI Building Science Principles Certificate of Knowledge is accepted, but BPI Building Analyst is most common.
The walk-through with the "mentor" counts toward the quality assurance requirement.
RESNET HERS – HERS Rater candidates must:
pass the RESNET Core written exam with a score of 80% or higher
pass the RESNET Practical Simulation exam with a score of 80% or higher on both houses
pass the RESNET Combustion Safety written exam with a score of 80% or higher
pass the RESNET Combustion Safety simulation exam with a score of 85% or higher
complete two home energy ratings – one from blueprints and one from a real home
join an approved RESNET Quality Assurance Provider
pay an annual membership fee for rating reviews
complete a supervised energy rating with a Quality Assurance Designee
perform two energy ratings for practice
submit all ratings to QA Provider
pay a fee for all rating reviews
Upon completion of these steps, a candidate will be awarded the RESNET HERS Rater Certification from their Quality Assurance Provider.
Mentors & Stakeholders
Home Energy Score – To offer the Home Energy Score to homeowners, Assessors work directly with Home Energy Score Partners.
Home Energy Score Partners include various types of organizations (utilities, state agencies, local governments, non-profits, contractor associations, etc.) that administer the delivery of the Score on a local, state, or national basis. The largest Home Energy Score Partner is the Building Performance Institute (BPI), due to its national reach. Partners must be able to score at least 500 homes per year and fulfill quality assurance requirements in order to participate in the program.
As of April 2017, there are 24 partners.
RESNET HERS – A third party, known as a RESNET Quality Assurance Provider, must review all home energy ratings submitted by a HERS Rater to ensure compliance with the RESNET standards.
A Quality Assurance Designee (QAD) is a person who works for a QA Provider in the role of reviewing home energy ratings. A RESNET QAD is an experienced HERS Rater, having completed at least 25 home energy ratings with at least 5 ratings of a particular type (sampled, BOP, survey/audit, EEP). An established QAD must review 5 of the 25 required submitted ratings. Finally, a RESNET QAD must have passed the QAD test.
RESNET Energy Smart Builders are committed to increasing the energy performance of the homes they build. They are committed to having all of their homes energy rated following RESNET's stringent standards and marketing their homes' HERS Index Score. The RESNET website maintains a list of Regional and State Energy Smart Builders and a list of National Energy Smart Builders.
The International Energy Conservation Code (IECC) serves as the national model energy code and becomes mandatory when adopted by a state or local jurisdiction. When a builder builds a home, he/she has to meet the current energy code for the jurisdiction in which the home is location. The Energy Rating Index is a new compliance path that was introduced with the 2015 IECC. This option relies on the HERS Index and the consultation of a certified HERS Rater.
Quality Assurance
Home Energy Score – The Department of Energy conducts systematic reviews of the data provided by the assessors. Local and national partners are required to carry out additional quality assurance through on-site assessment of 5% of homes scored.
DOE reviews these assessments as well to ensure consistent scoring across assessors. The results of these reviews are used to provide direct feedback to individual assessors and programs.
RESNET HERS – A Quality Assurance Provider must check 10% of a Rater's energy modeling files and perform an on-site QA review of 1% of a Rater's rated homes (or 1 home up to 100) each year.
Providers are responsible for reporting the results of all rating and on-site QA activity to RESNET on an annual basis. Providers are audited at random by RESNET to determine whether the Provider is fulfilling its obligations to meeting the RESNET standards for QA.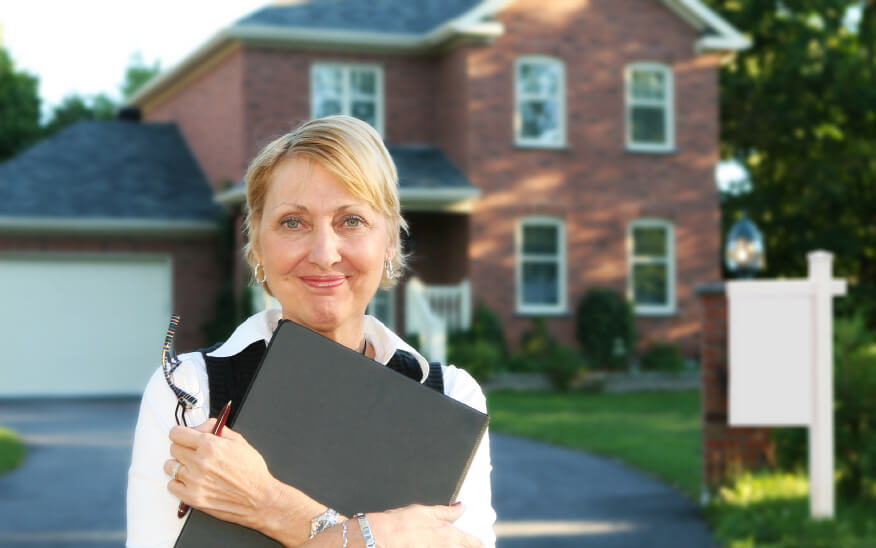 Observations & Conclusion
The RESNET HERS Score is far more popular than the Home Energy Score. It appears as though the newcomer still has some lessons to learn and some issues to iron out. Namely, the way the Home Energy Score is assigned – every location has a bucket based on BTU output per year regardless of home size. Big houses automatically use more energy. Therefore, the Home Energy Score benefits small homes. Big homes will do poorly regardless of how relatively efficient it is. The RESNET HERS program compares houses of the same size.
Another problem for Home Energy Score is weather. In San Diego, homeowners won't use a lot of energy at all because weather is not a factor. All the homes there score really well because they don't use a lot of energy.
Nevertheless, several states in the U.S. have "adopted" the Home Energy Score. Those states include Connecticut, Colorado, Vermont, Missouri, Alabama, Arkansas, and New Hampshire. However, it's a little unclear how these states have adopted the score. For example, Connecticut is using it to track progress toward their 80% weatherization goal for 2030….on the other hand, Colorado is linking the score to incentives at point of sale or refinancing in real estate transactions ($750 per score jump, up to $3,000).
The thing is, the Energy Rating Index in the 2015 IECC is the cheapest option for builders, so states with the 2015 IECC, like Michigan, may end having more HERS Scores. The Home Energy Score does not line up with the IECC requirements. In the end, there's no correlation between the Home Energy Score and the HERS Score because they're based on different standards and guidelines.