I watch a lot of Forensic Files – you know, the show that reveals how forensic science is used to solve violent crimes and mysterious accidents. By far, the two most frightening episodes I've seen had nothing to do with murder. They actually led me to think about healthy home assessments.
Both cases from the show identified mold as the culprit and discussed how air leakage and water damage in the home can lead to health hazards.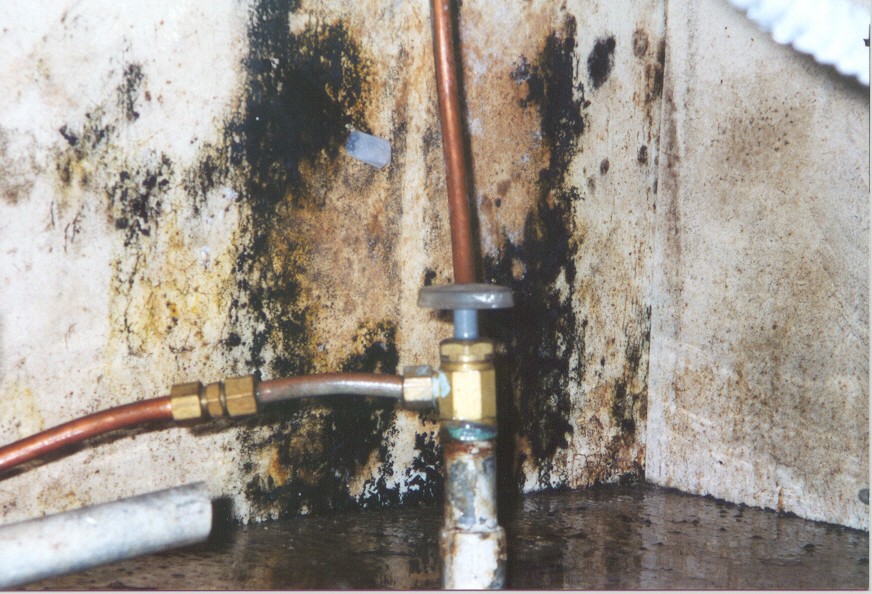 Here are two real-life examples of why healthy home assessments are important.
The more famous incident took place in Dripping Springs, TX in the late 1990s. A couple living in a 22-room home (modeled after the mansion in Gone with the Wind) sued their insurance company after what had initially been a simple water damage claim. The couple alleged that their insurance company took so long to investigate the claim that the home started to develop toxic black mold.
What Happened
Melinda Ballard, Ron Allison, and their four-year-old son Reese experienced the following health problems:
Dizzy spells
No equilibrium
Stomach problems
Diarrhea
Vomiting
Coughing up blood
Trouble breathing
Memory loss
Asthma
According to The New York Times…
"Most molds, even multiplying ones, are relatively harmless, and most people won't have a strong reaction to them (unless they're allergic). But there is mold, and there is mold. Exposure to certain types of fungi, known as toxic mold, can cause a serious reaction. If you're unlucky, this is the kind of mold you have. If you're really unlucky, your toxic mold will gird for battle and go to war, secreting chemicals called mycotoxins, which can find their way into your body, entering through your nose, mouth and skin, lodging perhaps in your digestive tract, your lungs or your brain. Among these toxins are trichothecenes, which were rumored to have been used as a biological weapon during the wars in Afghanistan and Vietnam. They turned out not to be very useful as weapons, however, because they poison slowly and erratically. That was small comfort to Ballard, however, when the stuff was found throughout her house."
The toxic black mold found in the Texas home was called Stachybotrys and has been found in all 50 states – in homes, businesses, and schools.
In 2000, Ron Allison was diagnosed with toxic encephalopathy – a form of brain damage – likely due to mycotoxin poisoning, presumably emitted by the Stachybotrys.
"So now I've got a 12,000-square-foot home," Ballard recalled, "with 10,000 square feet of Stachybotrys."
How It Was Resolved
Melinda Ballard and Ron Allison hired a team of contractors and inspectors to pore through their home, but it wasn't until a chance encounter on a flight that the couple met their match.
Bill Holder was trained as a mechanical, electrical, and plumbing contractor. His first encounters with mold were inside air conditioning systems. In 1987, Holder began researching the effects of mold in commercial buildings and schools. Mold became his specialty, and he sold his contracting business in 1995 to form Assured Indoor Air Quality, a company created to tackle mold problems.
In 1999, Holder sat across from Melinda Ballard on a Southwest Airlines flight. She was complaining about the mold problem in her house and, while she talked, she was coughing up blood. From that moment, Holder knew he had to get involved. Four days later, Holder traveled to Dripping Springs to conduct some healthy home assessment tests.
The investigators cut square holes in nearly every wall, then removed the Sheetrock to reveal a coating of mold hiding on the other side.
After identifying the Stachybotrys, Holder advised Melinda Ballard and Ron Allison to leave their home as quickly as possible, leaving behind all of their possessions.
What was once their dream home became completely uninhabitable and decrepit.
A Dozen Babies Suffer from Blood in their Lungs
The other terrifying episode about mold took place in 1994 in Cleveland, OH. That fall, ten babies were brought to Cleveland's Rainbow Babies and Children's Hospital with cases of bleeding in their lungs.
The infants in this case also experienced:
Coughing up blood
Respiratory problems
Turning pale
Nosebleeds
The doctors at the hospital called the Centers for Disease Control, which sent an investigation team.
The CDC interviewed hundreds of households in the area. For each sick infant, they studied three control infants who were the same age and lived in the same neighborhood. They found that most of the Cleveland cases were clustered on the east side of the city in a low-income neighborhood with older, wooden houses, some of which had not been kept in good repair by landlords.
As with the case in Texas, investigators identified Stachybotrys black mold in these homes, potentially having grown out of standing water in a flooded basement. Three months before the hospital became aware of these incidents, a heavy rainstorm had flooded many homes in Cleveland.
Is Your Home Making You Sick?
These Forensic Files episodes were so terrifying because they could happen to anyone. We spend a third of our lives in our homes, and the dust mites, mold, and dander hiding behind our walls can be making us sick.
This is especially relevant as we look at rebuilding homes and mitigating flood damage in the wake of Hurricanes Harvey and Irma. Now is the time for healthy home assessments and rebuilding with health, safety, and durability in mind.
The Need for Healthy Home Assessments
Larry Zarker, the CEO of the Building Performance Institute, recently released a statement that in addition to donating money and resources, home performance professionals can also contribute their skills and expertise in the form of healthy home assessments.
Zarker noted that building science could prove invaluable to the rebuilding process, as many of the issues relating to flood damage relate to the health and safety impacts of moisture on occupants and the durability of the structure.
Across the country, there are a little over 300 BPI Healthy Home Evaluator professionals who offer healthy home assessments that address mold, mildew, dampness, and structural issues in addition to performing home energy audits.
In hurricane-impacted states like Texas, Florida, and Louisiana, there are currently a total of 2 HHE-certified professionals! (None in Texas)
Local governments, agencies, and residents will be looking for healthy home assessments in these specific areas and across the country. If you carry any of the following BPI designations, you are eligible to become a BPI Healthy Home Evaluator:
Other Resources
Photo courtesy of the University of Tulsa