Commercial and residential solar is growing exponentially in locations across the country, leaving states to play catch-up as far as rolling out contractor requirements and qualifications.
More and more jurisdictions have started to define what it means to be a practicing solar installation professional, however the definitions vary by state – and often county to county.
What's often confused are the terms solar license and solar certification – and which is required?
Licensure = mandated by the state to practice a profession or offer a service within that designated scope of practice
Certification = provided by a private organization comprised of trade-specific professionals who identify tasks and duties that best represent a competent professional in the industry
How Solar Licensing Works
In general, there are three basic approaches for states to regulate solar installations, either through licensure or certification.
1. No specific solar license – must be a licensed electrician (to install solar panels) or a licensed plumber (to install solar thermal)
Down side: electricians and plumbers with no experience in solar can complete installations while installers with years of solar experience are barred from the trade. In other words, this option can be a barrier to entry-level contractors who want to install solar but are not licensed as an electrician or plumber.
2. Criteria for utility incentive programs – requires a solar installer to achieve professional certification as proof of their knowledge and skills
Plus side: this approach opens a career pathway for individuals who want to become solar installers but are not licensed tradespeople. The North American Board of Certified Energy Practitioners (NABCEP) worked with industry experts to create a "Job Task Analysis" that defines the knowledge and skills for a solar installation professional. After passing the NABCEP exam and earning the certification, an individual can effectively advertise their expertise in the solar industry.
3. Specific solar license – when states identify specific requirements for a contractor to earn a license specializing in solar
These licenses may be sub-classifications of an electrical or plumbing license and are typically defined to limit the scope of work to direct solar installations and maintenance tasks
As a general rule, if a state does not have specific licensing requirements for solar installers, then it would fall back to general licensing requirements that would apply to all electrical work.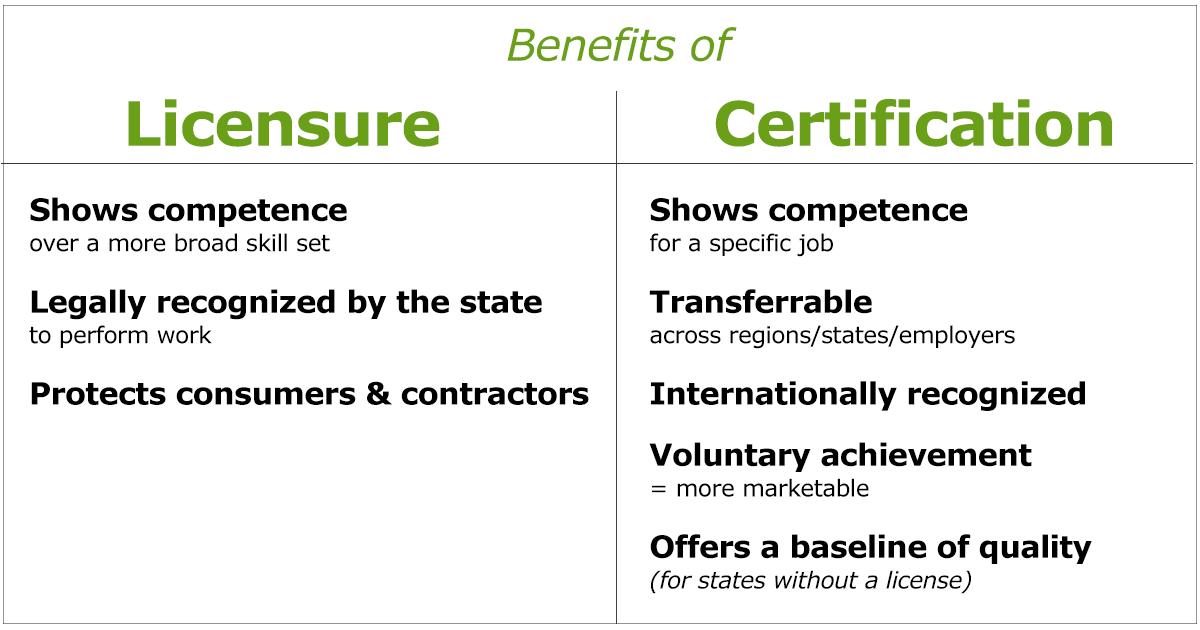 Do I Need a Solar License or a Solar Certification?
Contractor requirements depend on exactly which occupation you wish to pursue and which city you intend to work in.
For example, a solar contractor in…
State A may need an electrician's license
State B may need an electrician's license with a specialty license in solar
State C may need a general contractor's license
State D may not need a license but may need a NABCEP Certification
State E may need a NABCEP Certification to qualify for the license
A short cut to a definitive answer is to call your local utility.
State-by-State Solar Licensing Requirements
The Interstate Renewable Energy Council, Inc. (IREC), supported by the US Department of Energy (DOE), has created a Solar Licensing Database as a resource for policy makers, practitioners, consumers, and anyone else looking for solar licensing information in the U.S.
The state-by-state information offers a handy comparison for reviewing the different approaches across state lines and identifies various practices for regulating the solar installation industry.
What remains unclear is how recent the information was updated, so again, we suggest calling your local utility, researching your state contractor's board, and comparing what you've learned to this handy guide to make sure that you have ALL the right information.
At the time of its publication, the IREC Solar Licensing Database identified 14 states with specific solar license classifications (usually sub-classifications of electrical or plumbing licenses).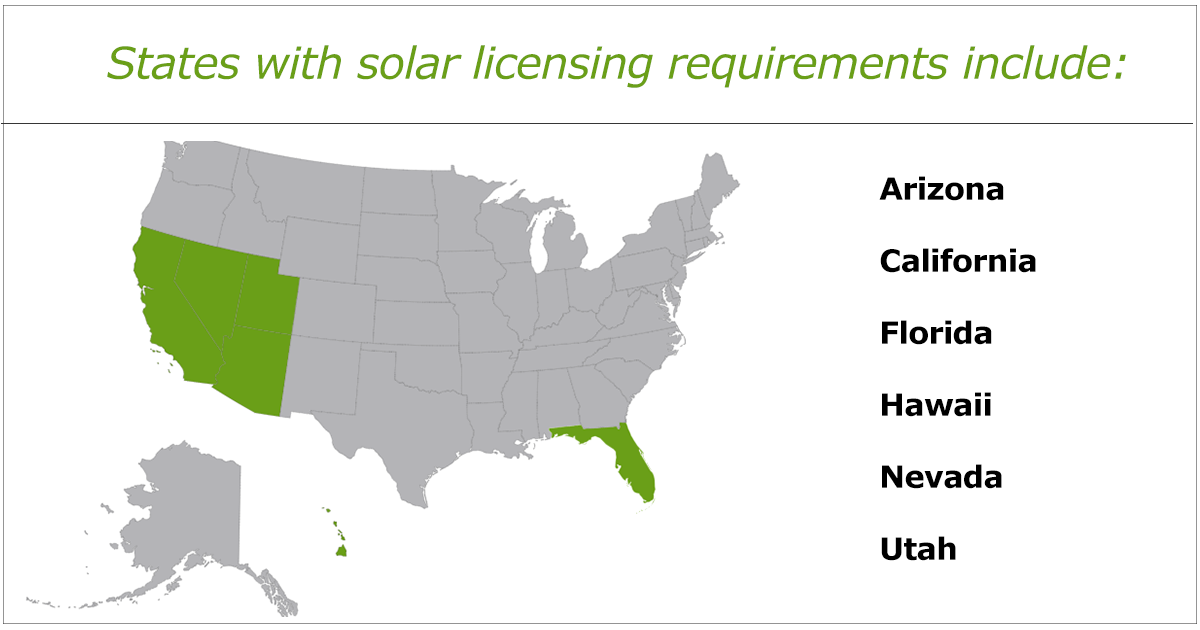 Regardless of whether you need a solar license or a solar certification, you'll need to complete basic solar training in order to understand the tasks and responsibilities of being a solar installer.
This is where Everblue comes in. We'll teach you the fundamental solar skills so you can feel confident moving forward – whether that means taking a licensing exam, getting a job, or pursuing a solar certification.
For more information about solar courses, give us a call at (800) 460-2575.