As you embark on a new career path in the energy efficiency industry, you may begin your research with identifying the qualifications for an energy auditor license.
But, for the most part, an "Energy Auditor License" does not exist.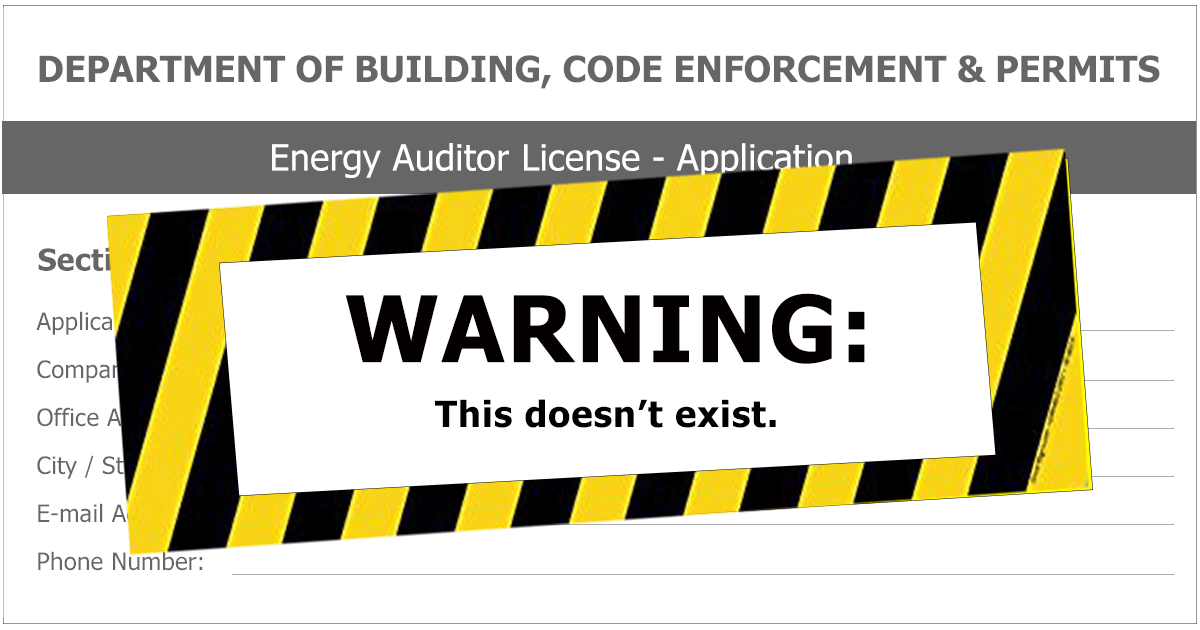 How can this be? How do you show that you're a competent energy auditor? Keep reading.
If you work in a construction trade, such as HVAC, general contracting, or plumbing, you're familiar with contractor licensing requirements in your state.
Because of the strong link between these trades and energy efficiency, you might want to upgrade your skills to become an energy auditor.
Rationally, you might assume that an energy auditor would also have to adhere to state contractor licensing, but that's not exactly the case.
Instead, energy auditing is viewed more as a certifiable skill set than a licensed trade. In other words, it's a set of skills that build on top of your existing occupation (known as a certification).
Many people confuse the terms license and certification, so let's get that out of the way right now.
Licensure = mandated by the state to practice a profession or offer a service within that designated scope of practice
Certification = provided by a private organization comprised of trade-specific professionals who identify tasks and duties that best represent a competent professional in the industry
According to the U.S. Bureau of Labor Statistics, some states require prospective energy auditors to take courses or earn certification.
Because energy auditor certification represents an individual's superior level of knowledge and experience, an employer may choose to hire a candidate with a certification over someone without a certification.
Home energy auditor certification is available through:
Commercial energy auditor certification is available through:
Do note that these organizations are known as the standards bodies, which means they define the knowledge, skills, and abilities held by competent energy auditors and create the technical guidelines that they must follow during their audits.
These organizations rely on a network of training providers (like Everblue) to actually administer the energy auditor training – and, in some cases, the certification exams.
So, to become an energy auditor, you should consider these steps:
Earn a state contractor license in your desired trade
Choose whether you want to pursue residential or commercial auditing
Determine which energy auditor certification you want to achieve
Enroll in energy auditor training
Pass your certification exam(s)
For more customized assistance choosing the right career path or energy auditing courses, call us at (800) 460-2575.
Footnote: The state of Nevada is, quite possibly, the only state with a specific process and application to legally perform work as an energy auditor. In other situations, such as the SFEnvironment program, a complementary state license with related work experience could qualify a person as an energy auditor. But, by and large, there is no nationwide license for energy auditors. That said, the energy auditor certifications available through BPI, RESNET, and AEE are recognized nationally (because, remember, these designations are not legally tied to a state, since they are marketable professional certifications).