From Monday to Friday, Everblue has representatives available to live chat with website visitors and answer questions about the programs that we offer. We commonly hear that individuals want to pursue a LEED AP Certification.
This should not be a strange or noteworthy inquiry, since Everblue does, in fact, offer LEED AP Exam Prep. The strange part is that many who desire this credential don't realize that there is a prerequisite: LEED Green Associate.
If you're just getting started with LEED, visit our New to LEED? Start Here! series.
What is LEED AP Certification?
Let's take a quick look back to the early days of LEED. When the LEED professional accreditation program launched, there was only one LEED designation: LEED AP.

The LEED accreditation program grew and thrived – partly due to its straightforward nature and also because of the admiration and respect given to the exclusive group of green building professionals with LEED knowledge.
Then, in 2009, the U.S. Green Building Council changed its LEED credentialing process. This change introduced a tiered credentialing process. From that point on, LEED AP Certification was no longer the only option. In fact, LEED AP Certification had a completely different meaning.
The new LEED credentials are as follows:
Tier 1: LEED Green Associate
Tier 2: LEED AP with Specialty
Tier 3: LEED Fellow
LEED Green Associate – this is a required first step for all LEED prospects. This designation highlights an individual's basic understanding of green building principles and terminology.
LEED AP with Specialty – after passing the LEED Green Associate exam, a candidate can choose to upgrade to a LEED AP status with a specialty area. There are 5 specialties available: Building Design + Construction, Operations + Maintenance, Interior Design + Construction, Neighborhood Development, and Homes.
LEED Fellow – LEED APs are eligible for this honor after having demonstrated significant technical knowledge and an exemplary level of leadership and advocacy. A LEED Fellow candidate must be nominated by an accomplished LEED AP peer. Due to the rigorous eligibility requirements, LEED Fellow is not a common designation.
So…what is LEED AP Certification now?
When the USGBC changed its LEED credentialing process, they gave existing LEED APs two options:
Opt into the new system
Remain a "LEED AP" for life
The ability to opt into the new system has since expired. Any "LEED AP" wanting to upgrade their status must now start from the beginning, at the LEED Green Associate level.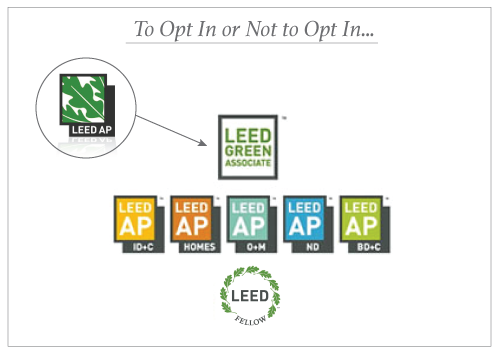 While this might sound unfair, please remember that 5+ years may have gone by since the LEED AP passed his/her exam. The reality is, the green building industry is changing and evolving so rapidly that knowledge from 5+ years ago simply is not enough to compete in today's world. It is to a LEED AP's benefit that he/she start fresh and learn the new material.
On the other hand, a LEED AP could sit back and continue advertising his or her knowledge as a LEED AP. Again, this is not to be confused with LEED AP Specialty. There used to be a tangible benefit to being a LEED AP; one could earn a point in the Innovation category on a LEED project simply for having the credential. Because LEED AP Certification is technically outdated, the USGBC does not reward these individuals with that free point anymore.
An intangible benefit of remaining a LEED AP is the soft marketability that the acronym adds behind your name. It is soft because it can be viewed one of two ways – an informed employer may be disappointed to see an outdated credential OR an un-informed employer may be impressed to see a credential pertaining to LEED. It's a little bit of a gamble.
So the real question is: what do YOU mean when you say that you want to earn a LEED AP Certification?
There are only two possible answers to this question.
I want a LEED credential. I want to become a LEED Green Associate.
I want a LEED AP Specialty credential because a project/job I want requires it, and I want to be as qualified as possible. I know I have to pass the LEED Green Associate exam first, but my ultimate goal is to pass the LEED AP Specialty exam.
For more information about LEED AP Certification or recommendations on how to get started, please call us at (800) 460-2575.