With the combination of online NABCEP Certification training and live online exam proctoring, you can indeed get NABCEP Certified from any location – including your home – simply by using your personal computer.
Here at Everblue, we offer NABCEP-approved and IREC-accredited solar training courses to help you qualify for a number of professional solar certifications, including:
If you're new to solar, start with NABCEP PV Associate.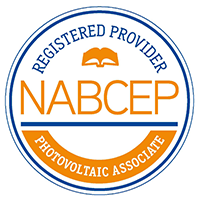 This is the entry-level credential where you can highlight that you understand how solar energy works.
There are no work experience requirements prior to sitting for this exam. In fact, once you earn the NABCEP PV Associate, you'll have a much stronger chance of getting a solar job.
And we include the exam fee in our training package so you can fast-track to your end goal. Become a NABCEP PV Associate
If you have solar work experience, choose a specialty certification.
With the exception of NABCEP PV Associate and NABCEP PV System Inspector, all of the other certifications require that you've taken approved training AND completed a level of work experience before you can even sit for the certification exam.
At this point in your career, you should have a good understanding of where you want to specialize in solar – design, installation, commissioning, system inspection, sales, etc. And you'll notice that NABCEP offers certifications that focus on these specialties!
For more information about work experience requirements, be sure to read the NABCEP Certification Handbook.
Enjoy the convenience of taking your NABCEP Exam at home.
After providing proof of your training and work experience to NABCEP, you'll be able to purchase your certification exam directly from the NABCEP organization.
Until recently, NABCEP staff would then connect you with their test proctoring partner, Scantron, to schedule a date and time for your NABCEP exam appointment.
However, due to concerns about the COVID-19 pandemic and the need to reduce exposure to viral threats, Scantron started closing its testing centers.
NABCEP came up with a back-up plan to offer its certification exams through live online proctoring. They are working on converting the exams to this Internet-based form of assessment, which ultimately allows YOU to get NABCEP certified from home on your personal computer.
Live online exam proctoring comes with many benefits.
It seems that COVID-19 forced NABCEP's hand to move in this direction, but there are several added benefits to remotely proctored exams, including:
Reducing the costs associated with traveling to testing sites
Making the exams more accessible to economically and geographically disadvantaged individuals
Decreasing our collective carbon footprint
Increasing candidate safety, comfort, and health
Double-check that you have the right technology to move forward.
TO COMPLETE EVERBLUE SOLAR TRAINING
Our solar training courses are accessible from any desktop computer, laptop, or mobile device. You'll gain instant access to the online, on-demand video content after you register.
Simply log into our online training portal using the username and password provided to you, and you'll be ready to go!
Please just make sure that you have the latest versions of your Internet browser, Flash, and Java to ensure that all videos and activities load as designed.
TO GET NABCEP CERTIFIED FROM HOME
To take a live online proctored exam, your computer must meet the following system requirements:
Desktop computer or laptop (tablets, Chromebooks, and cell phones do not meet NABCEP's requirements)
A working built-in or external webcam and microphone
Internet speed must be at least 2 Mbps download and 2 Mbps upload. Hot spots are not recommended.
Browser with pop-up blocker disabled
Are you ready to get NABCEP Certified?
Start today with an online solar course. If you have any questions, give us a call at (800) 460-2575.