OK, it may not be there yet, but with a small investment, mostly in time and energy, you can turn a small section of your yard into an environmentally friendly recycling center that reduces waste and greenhouse gas emissions, saves money, and nurtures the garden. By managing the natural decomposition of organic materials, such as yard and food waste, you can produce compost to enrich the soil without chemically enhanced fertilizers.
While the amount of waste placed in landfills has increased by 26% from 1990 to 2011, greenhouse gas emissions data from the EPA's annual report shows that net emissions from landfills have decreased by approximately 30%. The decreasing trend is partially attributed to a 21% reduction in the amount of decomposable materials (food scraps and yard waste) that are discarded into landfills.
The following tips can help you start your own garden recycling, waste reduction, and fertilization system – just in time for some spring gardening.
1. Buy or Build a Compost Bin
There are several different types of bins available in all different shapes, sizes, and styles, so check them out online to find one that best suits your needs. If you choose to build a container, start with a size that is about 3x3x3. Keep in mind that a simple pile works well to start out with yard clippings, but if you plan to incorporate food waste, a container is more effective to deter unwelcome visits from rodents. Check with your local solid waste authority to see if they offer any benefits to composters. Because cities are motivated to enlist the help of residents in cutting the costs of solid waste disposal, there may be programs in place to encourage composting. Possible benefits from these programs include free or discounted bins, discounts on your curbside pickup fees, or free instructional workshops.
2. Choose a Location
Finding that prime piece of real estate for your compost bin or pile means choosing an out-of-the-way spot that is dry and at least partly shady.
3. What to Add
Now that you have your bin situated in the perfect spot, it's time to add the right combination of carbon-rich (brown) and nitrogen-rich (green) materials. It is generally best to strive for 2 or 3 parts brown to 1 part green. Smaller particles decompose faster, so cutting materials into small pieces will accelerate the process.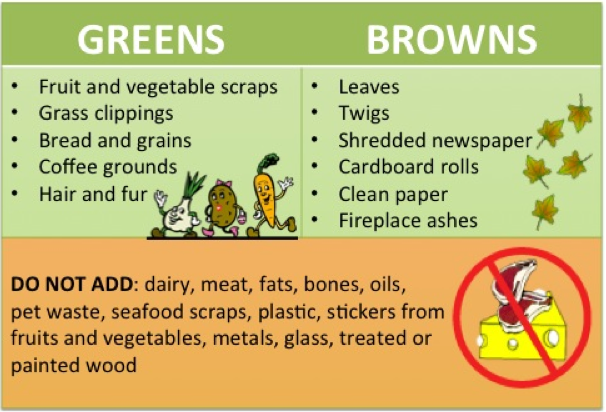 4. Maintain
Each time you add to the pile or bin, turn the materials over to aerate the mixture. Turn the compost about once a week, shifting the cooler outer parts to the warmer center to speed up decomposition. Material should be moist but not soggy, so add water or dry material as needed.
5. Use
Compost is ready to use when it is dark brown and crumbly, with no distinguishable remnants of food or yard waste. When the mixture reaches the desired consistency, stop adding waste, and allow the material to more completely decompose for about a month. Dig about two inches down in any planting bed, add the compost, and mix in with the rest of the planting soil.
Food scraps and yard waste make up about 20-30% of the waste stream, leaving lots of room for improvement through composting. The next time you cut the lawn, peel a carrot, or clean out the coffee maker, think about turning that garbage to green. Treat the garden to some recycled nourishment, ease the strain on the landfill, and reduce greenhouse gas emissions.