We're happy to be working with GRID Alternatives to provide solar PV installation opportunities for our solar students. All candidates seeking a NABCEP PV Installation Professional Certification must work on 3-5 solar PV installation projects after Everblue's NABCEP PV Installation Professional program (which fulfills the training and education requirement), and working with GRID Alternatives is the perfect opportunity to gain this field experience!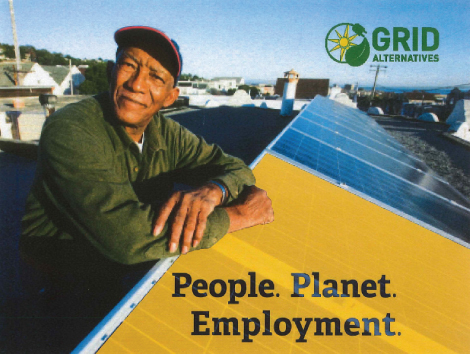 GRID Alternatives is a nonprofit organization that brings the benefits of solar technology to communities that would not otherwise have access to clean energy and job training. GRID's vision is for a successful transition to clean energy that includes everyone. GRID offers volunteer opportunities in California and Colorado as well as the Mid-Atlantic and New York Tri-State regions.
Everblue solar students are invited to join the GRID Alternatives volunteer team and work with the Solar Installer Supervisor (SIS) on the roof during these solar installation opportunities.
All volunteers must sign up on the GRID Alternatives Volunteer Portal so they can gain access to the orientation calendar. It is mandatory for all potential volunteers to take the 1-hour orientation. This orientation covers anticipated solar installation culture, OSHA safety, and what is required for a successful two-day installation. Participants must be 18 or older to volunteer.
We look forward to posting about more volunteer solar installation opportunities with GRID Alternatives. If you're interested in getting a job in solar PV or earning a NABCEP Solar PV Installation Professional Certification, enroll today in Everblue's NABCEP PV Installation Professional program! This training not only fulfills the educational requirement for certification but also prepares you with the theory and practical knowledge you need before you start working in the field!