During National Apprenticeship Week, Everblue celebrates the role that registered apprenticeships play in expanding access to good-paying jobs and building a strong workforce. Apprenticeships are especially important for underserved populations, who have historically been underrepresented in the energy efficiency and clean energy industries.
The Inflation Reduction Act (IRA) and the Bipartisan Infrastructure Law (BIL) have made historic investments in energy efficiency and clean energy, creating millions of new jobs in these burgeoning sectors. This is an opportunity to make the workforce more inclusive by expanding registered apprenticeship programs to underserved populations.
The energy efficiency and clean energy industries are expected to grow rapidly in the coming years, driven by the IRA and BIL. This growth will create millions of new jobs, including more than 900,000 new jobs in energy efficiency and over 5 million new jobs in the clean energy industry over the next decade, according to a recent study by E4 the Future. The DOE's Home Energy Rebate Program, which provides nearly $9 billion for residential electrification and energy efficiency upgrades, is predicted to create another 170,000 new jobs.
Despite the growing demand for workers, the energy efficiency and clean energy industries are not currently very diverse. According to the American Council for an Energy-Efficient Economy (ACEEE), low-income households and communities of color face a high "energy burden," meaning they spend a disproportionate amount of their income on energy costs. These are the same communities that are most underrepresented in the energy efficiency and clean energy workforce. In addition, there is a huge gender disparity in the energy efficiency workforce, which is just 26% female compared to 47% of the national workforce.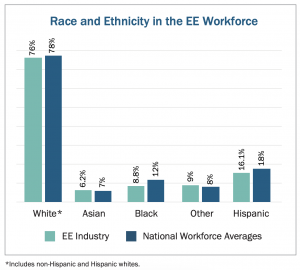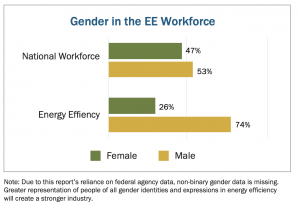 The Transformative Impact of Apprenticeships on Underserved Communities
Apprenticeship programs are a powerful tool for economic mobility and can play a huge role in underserved communities. They provide practical training and education in high-demand industries, such as clean energy and energy efficiency. This directly combats unemployment and poverty in these areas.
Building skills for in-demand jobs: Apprenticeships provide hands-on training in the skills that employers are looking for, as these programs are typically designed in partnership with employers. For example, an apprenticeship in a solar installation company might teach apprentices how to install solar panels on rooftops, how to wire solar panels to inverters, and how to connect inverters to the grid. This ensures that the benefits apprentices receive don't stop the moment they complete their program – instead, it helps them compete for and land good-paying jobs in growing industries like solar energy.
Fostering a more inclusive workforce: Registered apprenticeship programs often partner with community-based organizations and local workforce development boards to actively recruit and support individuals from underrepresented backgrounds. This opens doors for women, minorities, and individuals with disabilities, which leads to a more diverse and equitable workforce.
Reducing barriers to employment: Apprenticeships can help to break down barriers to employment for people from disadvantaged communities. For example, apprenticeships may offer flexible training options or childcare assistance to make it easier for people with family obligations to participate.
Average Starting Salary for Energy Efficiency and Solar Apprentices
The average starting salary for energy efficiency and solar apprentices varies depending on the location, the specific job title, certifications held, and the employer, among other factors.
However, apprentices who graduate from their program into a full-time career in these fields can expect to earn a competitive salary. For example, the median annual salary for solar photovoltaic installers in the United States is $45,230 (Bureau of Labor Statistics).
Individuals in these roles can expect to earn higher premiums as they grow their experience and secure competitive certifications required for certain jobs, like North American Board of Certified Energy Practitioners (NABCEP) certification. Also, starting a career as a solar installer can help individuals develop transferable skills that lead to roles such as electrician or general contractor.
Expanding Apprenticeships to Underserved Populations
Expanding apprenticeships to underserved populations requires collaboration and creative solutions to overcome persistent barriers beyond the program itself, such as transportation and childcare. Addressing these wrap-around needs is essential to enable individuals to fully engage in apprenticeship programs.
Successful graduates of Registered Apprenticeship Programs are also likely to encourage their peers to participate in the apprenticeship program in the future. Apprentices play a key role in the program's outreach and recruitment strategy by expanding its reach among their peers, which, in turn, aids in reaching underserved populations.
Dispelling the myth that a college degree is the sole path to a fulfilling career is also crucial. Raising awareness for the advantages of apprenticeship opportunities will help draw more underserved individuals towards this path, fostering inclusivity within the apprenticeship ecosystem.
Bridging the Rural and Isolated Gap
Underserved populations are not limited to urban areas. Establishing registered apprenticeship programs near and recruiting directly from individuals living in rural and isolated communities is critical to ensuring a sufficient supply of home performance contractors located in these communities.
Many rural homes have the greatest need for energy efficiency upgrades, but contractors often struggle to serve these areas due to the distance and transportation costs.
Everblue's Role in Apprenticeships
Everblue is committed to helping both individuals and employers in the clean energy and energy efficiency sectors meet their training needs. We support Registered Apprenticeship Programs with high-quality training aligned with their requirements, specifically for Solar Technician and Energy Auditor apprenticeship programs. Our Related Technical Instruction (RTI) Outlines for these programs are a turnkey, easy-to-use resource for states launching their own apprenticeship programs.
We are also actively exploring other opportunities to get involved in the apprenticeship process. In fact, our solar training courses were recently approved for teaching through the state of Virginia's Solar Technician Apprenticeship Program!
Everblue is a valuable resource for apprentices in the energy efficiency and clean energy industries. We offer a comprehensive suite of training courses in both online and in-person format, flexible scheduling options, and other supports to help apprentices fulfill their RTI requirements. Additionally, Everblue's instructors are experienced professionals who are passionate about teaching and helping apprentices and other training participants succeed. It is no surprise, then, why Everblue has such a high pass rate for its certification exams, which is a testament to the quality of its training.
If you are an apprentice, or if you are an employer looking to hire apprentices, consider reaching out to Everblue to learn more about our training and certification courses.