Everblue, a nationally recognized educational technology company, will move into its third year of partnership with the Virginia Community College System to offer solar energy courses and energy auditor training at all 23 institutions within the system. By joining forces, Everblue and VCCS can create a skilled workforce throughout Virginia and prepare individuals for occupations of the future.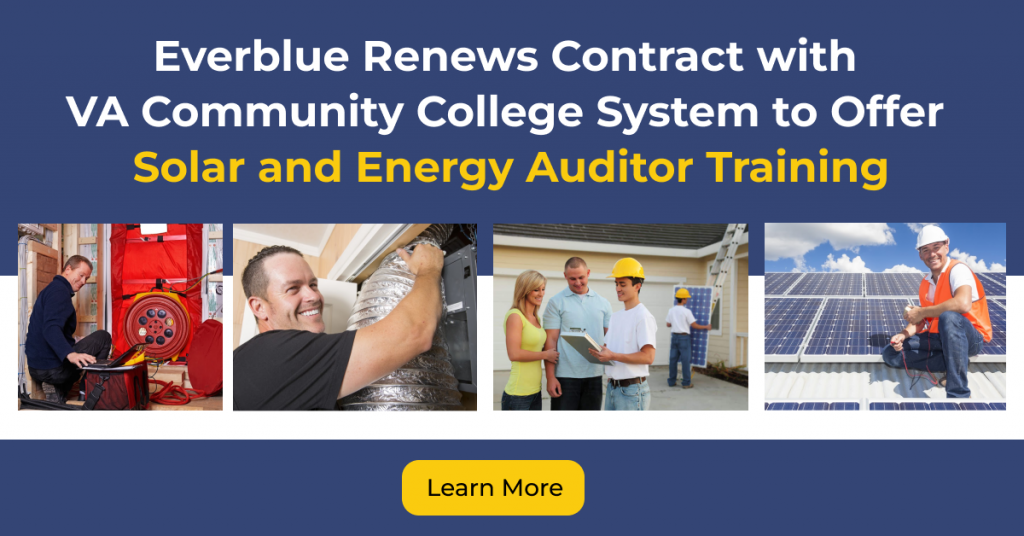 "With the passage of the Inflation Reduction Act, which invests $370 billion to fight climate change and bolster U.S. energy production, there are incentives for private companies to produce more renewable energy and for households to transform their energy use and consumption," said Chris Boggiano, Everblue's president. "As a result, we are already seeing a dramatic increase in the number of people seeking training and certification in the energy efficiency and renewable energy industries. Now is the time to get certified, so that when the federal funding trickles down and the demand hits, there will be a skilled workforce available to answer the call."
Since 2008, Everblue has provided accredited energy auditor training programs and solar energy courses, both in live and online formats, to general contractors, home inspectors, electricians, roofers, and career-changers.
The most popular course for the energy auditor pathway is the BPI Building Analyst, which trains someone to diagnose energy-related issues in the home that lead to higher energy bills and thermal discomfort. During the course, participants learn fundamental building science principles, such as how moisture, heat, and air move throughout a home. They learn how to identify energy efficiency issues using diagnostic tools like a blower door, duct blaster, and carbon monoxide detector. At the end of the course, Everblue administers and proctors the official BPI written and field exams to certify course participants.
"The short-course training that we provide aligns so well with what's being called for in the Inflation Reduction Act," Boggiano said. "Our intense, bootcamp style efficiently educates someone who's new to the industry and prepares them with real, relatable knowledge and skills that they can take to a job shortly thereafter. Our students complete the program with a nationally recognized, industry-specific certification from the Building Performance Institute that additionally confirms their expertise and proficiency."
Because the solar industry is growing so fast, there are several different pathways for someone to pursue. Everblue offers solar training courses that cover the basics of solar energy, as well as more specialized courses that cover solar panel installation, solar sales, and solar photovoltaic system design.
As part of its partnership with VCCS, Everblue will make its curriculum available to all 23 colleges within the system. Any college that opts to resell Everblue's courses will receive a 40% revenue share. Students will get enrolled in Everblue's learning management system to complete the courses and will ultimately receive a certificate from both Everblue and their desired VCCS institution, in addition to the industry-specific certification upon passing the corresponding exam(s).
"We enjoyed working alongside the community colleges, nonprofit organizations, utilities, and unions back in 2010 when the American Recovery and Reinvestment Act (ARRA) led to similar demand for energy auditor training," Boggiano said. "We demonstrated operational excellence then, hosting multiple in-person contractor training events across the country at the same time, and we're ready to do that again for the Inflation Reduction Act. As a BPI Test Center, energy auditor training is our core competence, and we're happy to partner with VCCS to provide a high-quality program and produce a skilled workforce."
Everblue currently works with more than 10 state government agencies, including the Virginia Department of Agriculture and Consumer Services, to deliver online training and testing services. The Veteran Owned Small Business was also recently added to the catalog of approved online providers for Virginia's Solar Technician Apprenticeship Program.
For more information about Everblue's solar training and energy auditor certification programs, contact Chris Boggiano at 800-460-2575 or visit the Everblue course catalog.