Energy auditor certification from the Residential Energy Services Network (RESNET) can appear to be a longer process than initially anticipated. Not only do you have to participate in training and pass the exams, but you also have to participate in a RESNET Quality Assurance process.
To become a certified energy auditor under RESNET's standards, you must first be familiar with the Home Energy Rating System, or HERS.
The HERS Index is a scale that summarizes home energy efficiency and ultimately compares the energy efficiency of all homes using a single number. Certified HERS Raters are responsible for analyzing different components in the home, understanding how energy is used throughout the home, and compiling the results into the HERS score. This is a high-level overview. Now to the specifics…
How to Become a Certified HERS Rater
The basic qualifications for becoming a RESNET HERS Rater are as follows:
Pass the RESNET Core written exam with a score of 72% or higher
Pass the RESNET Practical exam with a score of 80% or higher on both houses
Pass the RESNET Combustion Safety simulation exam with a score of 85% or higher
Complete two home energy ratings – one from blueprints and one from a real home
Join an approved RESNET Quality Assurance Provider
Pay an annual membership fee for rating reviews
Complete a supervised energy rating with a Quality Assurance Designee
Perform two energy ratings for practice
Submit all energy ratings to your QA Provider
Pay a fee for all rating reviews
Upon completion of these steps, you will be awarded your HERS Rater Certification from your RESNET Quality Assurance Provider (also known as a RESNET Rating Provider).
This may seem like a complex process, but there is logic behind it. HERS Raters are responsible for the health and safety of their clients who live in the homes that get analyzed and energy-rated. Energy auditors make suggestions regarding ventilation, insulation, and combustion safety. The corresponding retrofits are meant to improve the lives of home occupants, but if a Rater is not properly trained, these retrofits could have life-altering impacts. This is why the RESNET certification process is as it is – to ensure a thorough educational experience that will prepare a Rater for a successful career.
But that's not all. The RESNET organization put a separate process in place (after certification) that provides a checks-and-balances approach to measuring a Rater's education and success. This is what's called RESNET Quality Assurance and requires the participation of a third party, called a RESNET Quality Assurance Provider.
What is RESNET Quality Assurance?
RESNET Quality Assurance is the process by which a third party reviews the home energy ratings submitted by a HERS Rater to ensure compliance with the RESNET standards. This is just another, unbiased check that the energy auditing professional is performing quality work for his or her clients.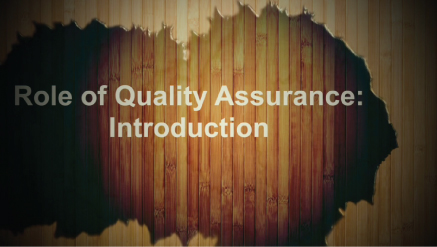 The RESNET standards specify that a QA Provider must check 10% of a Rater's energy modeling files and perform an on-site QA review of 1% of a Rater's rated homes each year.
As you saw above, one of the requirements to earn your HERS Rater certification is to attach yourself to a Quality Assurance Provider. RESNET does not allow any rogue energy auditors. All Raters must affiliate with a Quality Assurance Provider and undergo QA reviews.
Quality Assurance Providers are also subject to QA per RESNET standards. Providers are responsible for reporting the results of all rating and on-site QA activity to RESNET on an annual basis, as well as maintaining an accurate database of rating project data. Providers are audited at random by RESNET to determine whether the Provider is fulfilling its obligations to meeting the RESNET standards for QA. Providers and QADs who are found to be negligent in fulfilling their responsibilities may be subject to disciplinary procedures, ranging from probation to termination of status. As you can see, there are multiple tiers in place for guaranteeing proper fulfillment of energy auditing duties.
What or Who is a RESNET QAD?
QAD stands for Quality Assurance Designee. A RESNET QAD is literally a person who works for a Quality Assurance Provider in the role of reviewing home energy ratings submitted by HERS Raters.
To become a RESNET QAD, one must meet the following qualifications:
Previous certification as a home energy rater
Completion of at least 25 home energy ratings
Completion of at least 5 ratings of a particular type (sampled, BOP, survey/audit, EEP) to be eligible to Q that rating type
Passing score on the QAD test
An established QAD must review 5 of the 25 required submitted ratings
Rater's provider must review the QAD rater on an annual basis
Not to mention, a RESNET QAD must also complete professional development requirements. These activities include a two-hour RESNET roundtable each year as well as 12 hours of attendance at the RESNET conference, 12 hours of RESNET-approved continuing education, OR document field QA reviews on a minimum of 25 homes.
In short, a RESNET QAD is someone who has experience as a home energy rater, is well-versed on the RESNET standards, and is very much involved in the residential energy auditing industry.
Where Do You Fit In?
If you're reading this post, you are probably the perfect candidate for a RESNET HERS Rater Certification. Everblue offers an online training program that teaches you the RESNET standard and includes the cost of all needed certification exams.
The HERS Rater Certification process may look complicated at first glance, but we'll facilitate a smooth transition from beginner to probationary rater. You will not be alone in this. We'll help you navigate the process and choose the best RESNET Rating Provider for you.
As the top-rated RESNET training provider, Everblue is the best choice for beginning your career in home energy efficiency.
Still have questions about RESNET? Give us a call at (800) 460-2575.