National Apprenticeship Week is a time to celebrate and promote the significance of Registered Apprenticeships, a dynamic and industry-driven training model that extends its reach far beyond the traditionally recognized apprenticeable occupations and into new and emerging sectors like energy efficiency and the clean energy workforce.
Everblue, an accredited national training provider for BPI, Energy Auditor, RESNET, Solar, LEED, and other certifications in energy efficiency and renewable energy, is proud to support National Apprenticeship Week and recognize the essential role that apprenticeships play in building a sustainable workforce in these industries. They can serve as a crucial talent pipeline for energy efficiency and clean energy employers, which stand out for their unparalleled opportunities for career growth.
The Clean Energy Workforce's Evolving Landscape
The energy efficiency and clean energy industries are growing rapidly, having rebounded from the COVID-19 pandemic slump. Energy efficiency was hit especially hard by the COVID-19 pandemic in 2020, resulting in a loss of 271,719 jobs. However, since 2020, energy efficiency employers have added 163,461 workers, recovering 60.2% of the total lost during the pandemic. This also does not account for all the new jobs being created in real time by recent federal investments in the clean energy workforce, including the Bipartisan Infrastructure Law and the Inflation Reduction Act.
According to energy efficiency employers surveyed for the 2023 U.S. Energy and Employment Report, energy efficiency jobs, which include roles ranging from home energy auditors to HVAC technicians, are expected to grow by 6.4% in 2023 alone. Meanwhile, the U.S. Bureau of Labor Statistics estimates that the growth rate in solar photovoltaic installer employment will exceed 22% between 2022-2032. However, employers in the energy efficiency and solar installation fields are still having hiring difficulties, which is primarily due to fierce competition and small applicant pools, followed by lack of experience, training, or technical skills (2023 U.S. Energy and Employment Report). This further underscores the need for additional apprenticeship programs to help close the skills gap in these rapidly emerging industries.
Adapting to New Industry Technology and Practices
As we transition to a clean energy economy, we will need a skilled workforce to design, install, and maintain energy-efficient and clean energy technologies.
The energy efficiency and clean energy workforce is constantly innovating to make this happen. New technologies are being developed all the time, which means that new and experienced contractors need to be able to learn new skills and adapt to change quickly.
One way to ensure that workers in the energy efficiency and clean energy sectors have the skills they need is through apprenticeships. Apprenticeships provide hands-on training from experienced professionals and can lead to industry-recognized credentials. Apprenticeships are also specifically designed to stay current with changing industry technologies. For example, variable speed electric heat pumps (VSHPs) are a relatively new HVAC technology that is becoming increasingly popular in homes located in areas of the country that experience extremely hot and humid conditions in the summer months and/or extremely cold temperatures in winter. VSHPs are more efficient than traditional HVAC systems and can save homeowners money on their energy bills. However, VSHPs require specialized knowledge to install and maintain.
In addition to specialized knowledge, workers in the energy efficiency field also need to be able to communicate effectively with homeowners. They need to be able to explain the long-term benefits of advanced HVAC technologies, the importance of performing energy efficiency measures – from adding attic insulation to air sealing doors and windows – and help homeowners choose the right measures for their needs and budget.
Value of Apprenticeships in the Clean Energy Workforce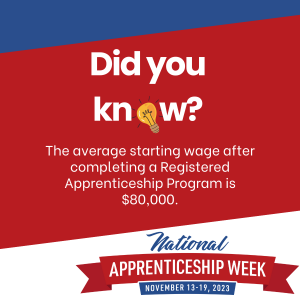 Apprenticeships are of mutual benefit to employers and workers in the energy efficiency and clean energy sectors.
For employers, apprenticeships can help to bring in qualified, diverse candidates to address the skills gap and hiring challenges they're facing.
For workers, apprenticeships offer a pathway to good-paying jobs with opportunities for advancement. Apprentices earn while they learn, benefitting from hands-on experience with an employer in the industry they are pursuing in addition to classroom instruction to learn core skills. Apprentices can often earn full-time wages once they complete their program.
How Everblue is Supporting Apprenticeship Programs
In order for participants to successfully complete a Registered Apprenticeship Program for clean energy roles like energy auditors and solar technicians, they must take 144 hours of "Related Technical Instruction."
Related Technical Instruction (RTI) is the classroom instruction that apprentices receive to complement and reinforce their on-the-job training. It is an essential component of any apprenticeship program, as it helps apprentices develop the knowledge and skills they need to be successful in their chosen role. RTI typically covers a wide range of topics, including:
The theory behind the skills and techniques that apprentices are learning on the job
Safety procedures
Industry standards and regulations
Troubleshooting and problem-solving skills
Professional development skills
Everblue is proud to offer curriculums and RTI outlines for both Solar Technician and Energy Auditor apprenticeship roles. For states that are just starting an apprenticeship program, these outlines are an easy plug-and-play option for high-quality training. For example, Everblue currently offers online RTI to apprentices through Virginia's Solar Technician Apprenticeship Program. Our solar curriculum is approved by the North American Board of Certified Energy Practitioners (NABCEP). This means that apprentices who complete Everblue's RTI program will be well-prepared to qualify for the internationally recognized NABCEP Certification exams. NABCEP credentials are highly valued by employers in the solar energy industry and will earn credential holders a pay premium.
Everblue is also working with state departments of labor, intermediaries, sponsors, and employers nationwide to lay the groundwork for building Registered Apprenticeship Programs to align with Inflation Reduction Act requirements. The IRA provides significant funding for apprenticeship programs, and Everblue is committed to helping states access it.
How to Get Involved in National Apprenticeship Week
During National Apprenticeship Week, there are many ways to get involved and support apprenticeships. Here are a few ideas:
Learn more about apprenticeships. Visit the Department of Labor's National Apprenticeship website to learn more about how apprenticeships work and the benefits they offer to workers and employers.
Attend an apprenticeship event! Many communities are hosting events during National Apprenticeship Week to promote apprenticeships and connect workers with employers. Find more info here.
Share your apprenticeship story! If you are an apprentice or have participated in an apprenticeship program accompanied by Everblue instruction, we want to hear your story! Sharing your experience helps encourage others to consider apprenticeships as a pathway to stable, family-sustaining careers with good growth potential.
For more information about partnering with Everblue on apprenticeship training for the clean energy workforce, call 800-460-2575 and view our resources: