Stephen Bushnell has worked in U.S. property and casualty insurance for over 40 years. From 2012-2015, he served as the first and only insurance and risk management professional elected to the U.S. Green Building Council (USGBC) National Board of Directors, where he helped shape the future of USGBC and its LEED green building program. Shortly after his time with USGBC, Stephen started to focus on sustainable disaster response initiatives.
In 2016, Stephen branched out from USGBC's overarching mission of transforming the built environment to be healthier and energy-efficient through LEED Certification and focused his efforts on disaster relief and sustainable rebuilding. It was then that he founded the Sustainable Disaster Response Council (SDRC). SDRC gained a lot of attention in Feb. 2017 when it announced that USGBC had joined as a founding member to support its cause. To be fair, USGBC had already been working on resilience and disaster relief causes.
What is the Sustainable Disaster Response Council?
The Sustainable Disaster Response Council is a member-driven organization that brings together a diverse group of leaders committed to advancing best practices for sustainable disaster recovery and restoration. Its members and strategic partners represent:
Disaster response and property restoration firms
Large property owners and managers
The architecture, engineering, and construction community
The insurance sector
Experts from industry trades, NGOs, academia, and government
SDRC's mission is to promote sustainability in disaster response and property restoration – helping American homes, businesses and communities turn every loss into smart investments in a stronger, safer, healthier and environmentally responsible future.
With this strategy in mind, multiple stakeholders stand to benefit.
Homeowners and businesses reinvest energy savings.
Commercial property owners improve tenant satisfaction and employee productivity.
Insurers turn claims into a down payment on risk reduction and resiliency.
Why Sustainable Disaster Response is Important
Each year, U.S. property owners face billions of dollars in damages – from localized fire and water damage to large-scale natural disasters. Since 1980, 203 extreme weather events in the U.S. have led to $1.1 trillion dollars of damage.
In 2016 alone, there were 13 extreme weather events that affected property owners and cost over $1 billion each. Those events included 7 thunderstorm/tornadoes, 1 hurricane, 2 hailstorms, 3 floods, and 1 wildfire.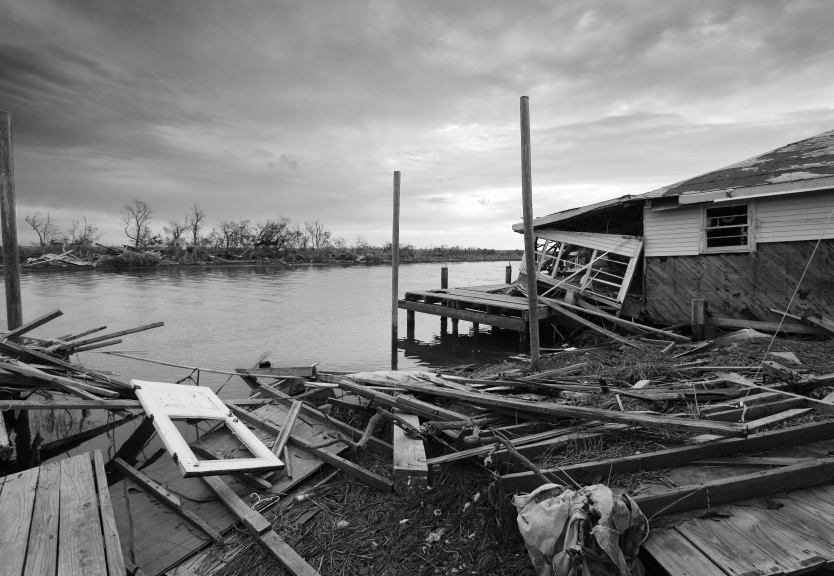 Sustainable disaster response efforts will benefit taxpayers who end up paying for disaster response and restoration in the form of higher insurance premiums and taxes. From 2011-2013, $136 billion in federal disaster relief spending averaged nearly $400 per household per year.
The USGBC and SDRC
As the creator of the LEED green building standard and an internationally respected force for promoting green building, USGBC will serve as a strong partner for SDRC and bring invaluable expertise to growing the organization.
"Focusing on disaster response is a natural evolution for the green building movement," said Mahesh Ramanujam, USGBC President & CEO. "Owners of more than 15 billion square feet of building space worldwide already use LEED to demonstrate how buildings can dramatically reduce their energy and water consumption – but we also know LEED certified projects have diverted more than 80 million tons of construction and demolition waste from landfills, and that's just one example of how green buildings can directly contribute to sustainable disaster response and property restoration."
SDRC Initiatives & Next Steps
SDRC's first order of business will be to develop a roadmap that ties together best practices for construction and demolition waste, land use, energy, water, materials, and other aspects of rebuilding and restoring properties and infrastructure in a more sustainable way.
The council will then develop two industry standards:
Will define and validate sustainability throughout the lifecycle of common disaster response and property restoration projects
Will certify the sustainability of disaster response and property restoration contractors' products, services, and operations
These steps will inevitably link to building codes and standards that govern the safety, quality, and performance of building products, services, and professionals. SDRC will take this a step further by also advocating for policies that prioritize sustainability in disaster response and property restoration. These efforts should help public sector leaders connect the dots between existing infrastructure programs and funding opportunities.
Stephen Bushnell had been recognized for establishing a connection between sustainable design and risk reduction long before SDRC and found success using this specialty expertise to advise commercial and residential property owners. It certainly appears as though he has identified an important gap in the industry, and as climate change continues to impact weather conditions, sustainable disaster relief and restoration will continue to grow in importance.
With hurricane and tornado seasons upon us, now is a great time to begin learning about sustainability and energy efficiency. If you're interested in environmentally responsible building, start learning now about the LEED green building process. At Everblue, we offer live and online training courses to help you become a LEED Green Associate. Continue reading about LEED online or call us at (800) 460-2575.