A new Prosumer Report from Havas Worldwide surveyed exactly 10,219 people in 31 countries, and the results were pretty shocking. Sixty-nine percent said that corporations have just as much of a responsibility as governments. This leads us to corporate social responsibility.
In this age of the Twitter updates and instant notifications, corporate mishaps are more accessible to the public than ever before; because of that, people want more than just appealing products and services. They want their favorite brands to take care of the environment, to treat their employees well, and to give back to local communities.
This concept known as corporate social responsibility, or CSR, is causing serious changes in the world of business, and companies are learning rapidly. With the development of CSR, studies continue to be released and the conclusions are always the same: those who are socially responsible prosper. 
Triple Bottom Line
It's a term companies are embracing to show their concern for more than just money. We talk about the Triple Bottom Line in our LEED courses. The concept focuses on the three prongs of sustainability: people, planet, and lastly, profits. Companies like Tom's Shoes, Patagonia, and Unilever have adopted these concepts in truly amazing ways and the people are responding in kind. 
Case Study: Patagonia's "Don't Buy This Jacket" Advertisement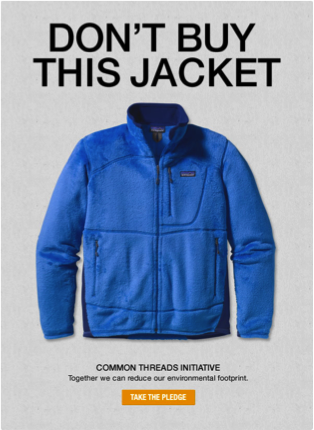 During the 2011 Black Friday shopping frenzy, Patagonia published an ad in the New York Times that showed a picture of one of its best selling jackets. Above the picture read "DON'T BUY THIS JACKET". The purpose of the ad was to show how Patagonia is doing its part to give back, the ad raised awareness of increasing environmental change, and promoted responsible consuming , and only purchasing what was absolutely needed.
–an excerpt from the ad reads:
"Because Patagonia wants to be in business for a good long time – and leave a world inhabitable for our kids – we want to do the opposite of every other business today. We ask you to buy less and to reflect before you spend a dime on this jacket or anything else."
By focusing on sustainability and encouraging other to do the same, Patagonia has shown that its purpose goes beyond profits, making it a company people can get behind. Since the "Don't Buy This Jacket" advertisement in 2011, Patagonia has become among the top five sustainable companies in the world, and its sales numbers continue to increase. This type of forward thinking business model is something other companies could really learn from.