If you work in the construction industry – from design to sourcing to building to maintenance – you've probably heard about LEED certification and the credentials available for LEED professionals.
But if you are new to LEED and would like a better understanding of what it is, take a moment to browse our What is LEED? overview series.
The power of LEED is evident through the 1.85 million square feet of construction space being certified every day and the more than 200,000 professionals worldwide who have improved their careers through a LEED professional credential.
The U.S. Green Building Council (USGBC), who created LEED, has published year-over-year (and in some cases, monthly) reports showing the growth of LEED – both in terms of certified buildings and LEED-accredited professionals.
An April 2017 report from USGBC called LEED Professionals at a Glance revealed that the United States is home to the most number of LEED credential holders, with the most popular designations ranking as follows:
LEED AP No Specialty (pre-2009)
LEED AP With Specialty
LEED Green Associate
During a more recent call with USGBC staff, we learned that both the LEED Green Associate and LEED AP BD+C Specialty credentials were showing more popularity than prior years.
Bearing in mind that the USGBC discontinued the LEED AP No Specialty designation in 2009 to create a tiered LEED credentialing process and then upgraded to LEEDv4 in 2014, you can see in the following chart how sustainability professionals reacted. More importantly, you can see that demand for LEED Green Associate is at near all-time-high levels, with an average of 710 individuals passing the LEED Green Associate exam each month.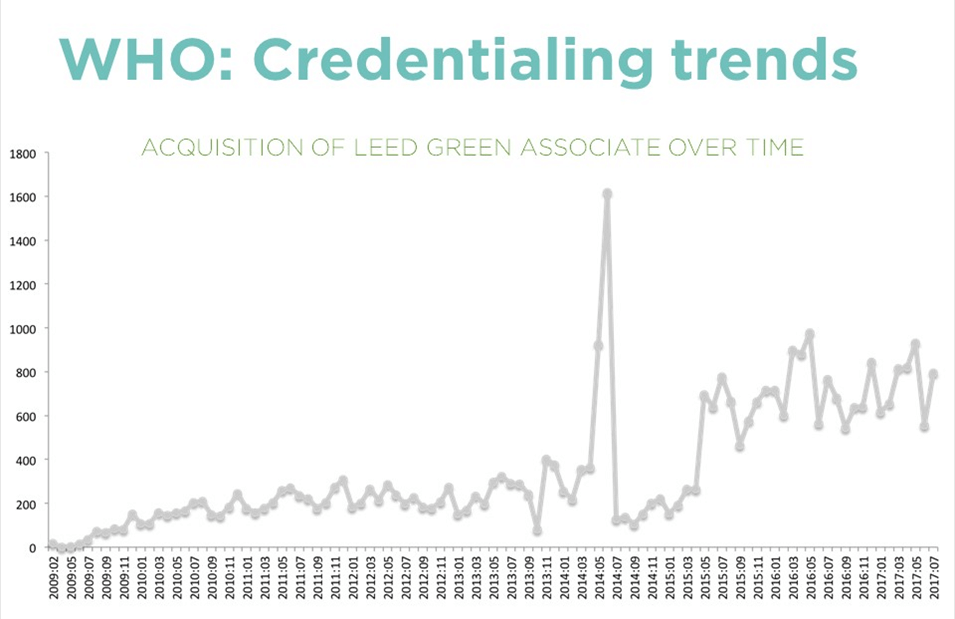 The LEED AP Building Design + Construction specialty, which expands on the LEED Green Associate knowledge and focuses on new construction strategies, is also showing an increase in popularity. USGBC is seeing an average of 240 new LEED AP BD+C credentials every month.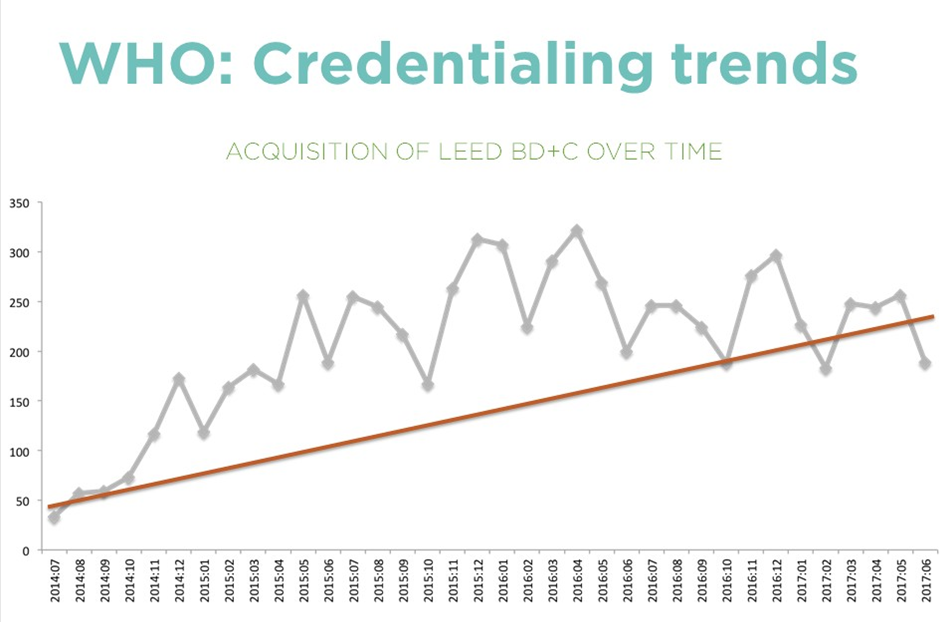 As the largest USGBC Education Partner, we're honored to help contribute to LEED's overall impact and success. Through our LEED Exam Prep training packages, which have shown to yield a 99% pass rate on the LEED Green Associate exam, candidates from all over the world are learning valuable skills that will enhance their career – either through salary increases, promotions, gaining more business, or a combination of all three!
If you're ready to improve your career with LEED green building knowledge, join one of our LEED Green Associate Exam Prep training courses – available in person and online! For questions about the credentialing process, give us a call at (800) 460-2575.