These solar inspector certifications are primarily intended for individuals performing system inspections for Authorities Having Jurisdiction (AHJs), utilities, incentive programs, investors, and others performing quality assurance of photovoltaic (PV) and solar heating systems and code compliance.
If you're new to the solar industry and want to get started in the solar installation or sales sectors, visit our Getting Started With Solar series.
If you want to abreast of where the solar industry is headed, keep reading!
Solar System Inspections More Important Now Than Ever
NABCEP initially sought input on these certifications in 2015 and has been working ever since to see them through to fruition. It's promising to see that NABCEP has now indicated these both certifications will be "coming soon."
Inspectors are a key component in ensuring quality renewable energy installations for customers. The new credentials are meant to encourage those who are responsible for inspecting systems to increase their knowledge and learn what to look for when performing their job as it relates to solar technologies. Companies that have been performing comprehensive PV system inspections nationwide have found that even after local permitting and inspection, more than 25% of systems being installed today have major or critical issues, and only a quarter are trouble-free.
Updates to the National Electric Code, including requirements for rapid shutdown-compliant technology, further necessitate that solar system inspectors be familiar with solar photovoltaic and heating systems as they relate to NEC code compliance.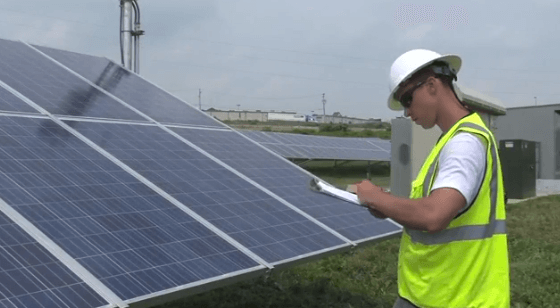 Specifically, the NABCEP PV Systems Inspector Certification aims to:
Increase the quality of PV system inspections to improve the reliability of PV systems, protect the reputation of the PV industry, and ensure safe operations
Facilitate training of PV system inspectors by providing an industry-validated Job Task Analysis upon which standardized curriculum can be based
Provide employers and customers of PV system inspectors with a tool to evaluate their competence at performing the job
The same objectives could be said for the proposed NABCEP Solar Heating Inspector Certification with regard to solar thermal systems.
NABCEP actually released a draft of the PVSI Job Task Analysis in 2015. Although the document has likely been updated since then, we can expect to see much of the same knowledge areas as originally proposed. Those learning domains include inspecting electrical components and systems, inspecting energy storage components and systems, inspecting mechanical and structural components, and documenting the system inspection.
Who Should Get Solar Inspector Certification?
Generally speaking, the primary audience for the NABCEP PV System Inspector Certification can include individuals performing inspections of solar panel systems for an Authority Having Jurisdiction (such as a Town Electrical Inspector) to ensure code compliance.
Secondary audiences for the NABCEP PVSI Certification would include individuals performing inspection services for utilities to ensure compliance with interconnection requirements, individuals performing inspection services for incentive programs (state or utility rebate programs) to ensure quality workmanship and performance, and/or individuals performing inspections of systems installed through a finance mechanism (loan, lease, PPA, utility program, etc.).
When to Expect the New NABCEP Certifications
The current guidance from NABCEP is to simply check their website for any updates. Since these certifications have been in development since 2015, one might question how much longer it might take to launch or whether the launch could be pushed back further. But I think that, overall, it's good news that NABCEP is starting to revive conversations about these certifications. I'm optimistic that we'll see these certifications launch in 2017 or 2018. Stay tuned on the Everblue blog as we follow the development of these certifications!
To begin learning about solar energy, visit our Solar Training page or call (800) 460-2575.
Image Source: IREC