If you're a frequent reader of our blog (or have been following the news lately), you know that our new Congress may soon be making big decisions on climate change legislation. And youth-led protests are working hard to see these changes happen.
The proposed Green New Deal, largely spearheaded by newly elected Rep. Alexandria Ocasio-Cortez, has been described as the most aggressive climate legislation our country has seen and therefore matches the scope of the issue.
But what we'd like to focus on today is the power of youth, courage, and leadership. Usually a term like "youth-led protests" can have a negative connotation, but we're going to look at how movements like these have actually led to change.
Putting aside the specifics of the Green New Deal, many journalists, activists, and fellow politicians have taken notice of the fact that this intense demand for change is being led by millennials.
Alexandria Ocasio-Cortez is 29 years old and is the youngest woman to serve in Congress in the history of the United States. Shortly after getting elected, she joined one of the youth-led protests held at Nancy Pelosi's office to show her support of climate change legislation. The sit-in was organized by the Sunrise Movement, a youth-led organization with over 13,000 volunteers who share Ocasio-Cortez's passion for environmental progress.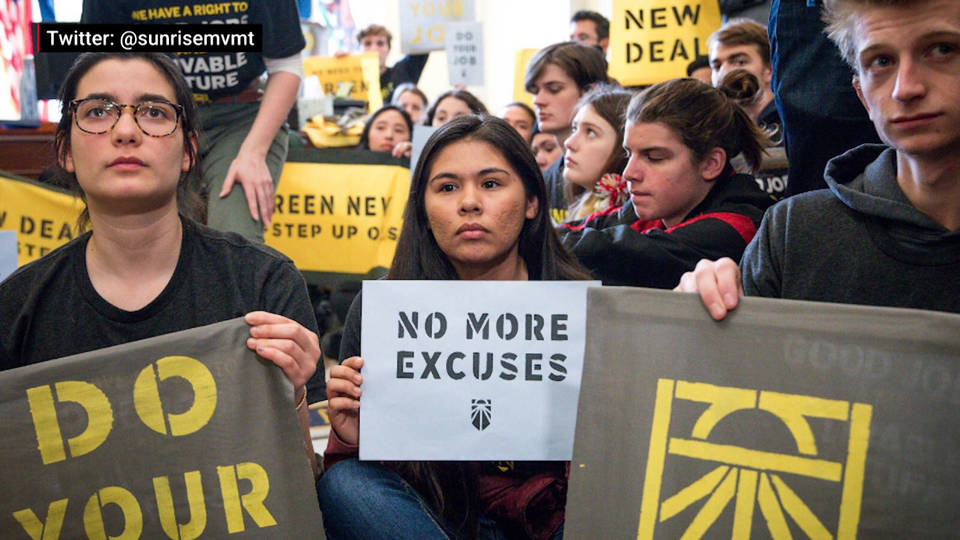 So what we're talking about here is, potentially, the most impactful set of climate change legislation – fronted by new voters and young professionals. That might make some people nervous, but don't cast out the millennial vote just yet.
Putting Our Trust in Millennials?
About five years ago, articles about "millennials in the workplace" were all the rage.
Millennials were judged by their emerging use of technology and therefore viewed as an incredibly self-absorbed and entitled group of people.
But you know what? Nowadays, just about everyone has a smartphone and multiple social media accounts. Does that make all of us self-absorbed? No.
An optimistic might actually flip the script and say that the millennials were the most open-minded to change and the most likely to embrace the technological innovation.
One of our core principles at Everblue is that innovation is hard. It takes leaders dedicated to making positive changes. Sustainability requires innovation. Sustainability requires technology.
Therefore, could it not be reasonable that perhaps the millennial generation is the right generation to jumpstart radical climate change legislation?
Youth-Led Protests Are Not New
It's easy for older generations to discount their younger colleagues – "they haven't experienced life yet; what could they possibly know and how would anyone take them seriously?"
The reality is, youth-led protests have led to major changes in our country. Why should climate change be any different?
March of the Mill Children, 1903. About 100,000 textile workers in Philadelphia, including at least 10,000 workers under 15, went on strike to demand better pay and a 55-hour work week (rather than 60). Seeking to expose the inhumanity of child labor, firebrand labor organizer Mother Jones led roughly 300 child laborers on a march from Philadelphia to New York. Although not organized by the youth involved, the march was an early milestone of youth-involved activism and a significant step in the fight against child exploitation. It also furthered the push to ban child labor practices (which didn't become federal law until Congress passed the Fair Labor Standards Act in 1938).
Barbara Johns school walk-out, 1951. Barbara Johns led a walkout of her all-black high school in Farmville, VA to protest the school's subpar conditions and demand improved facilities. The NAACP took up Johns' case, which became one of the five involved in the Supreme Court's landmark Brown v. Board of Education desegregation ruling three years later.
Greensboro sit-ins, 1960s, began with four teenagers who refused to leave a lunch counter. After 6 months, the sit-ins spread to more than 50 cities. The actions of the Greensboro Four led directly to the creation of the Student Nonviolent Coordinating Committee, which played a major role in the Freedom Rides and in voter registration efforts across the South. The momentum that began at the Woolworth's lunch counter would eventually contribute to the passage of the Civil Rights Act of 1964. Perhaps more than anything, the results of the Greensboro sit-ins showed the power of a small group of students prepared to stand alone if necessary.
Tinker v. Des Moines, 1965. Mary Beth Tinker and her older brother John were among a small group of Des Moines middle and high school students who were suspended from school after refusing to remove black armbands, which they wore in protest over the Vietnam War. The families consequently sued the school district for violating the students' First Amendment right of free expression. The case eventually reached the Supreme Court, which ruled 7-2 in favor of the students. In its landmark 1969 decision, the court recognized the students' rights to express their own political beliefs.
Apartheid divestment, 1970s-80s. Several thousand public school students in Soweto, South Africa began a peaceful march to show their objection to a law that mandated Afrikaans-language education. Incidentally, they set in motion a global movement against apartheid. From Columbia University to the University of California, protests compelled administrators to withdraw billions of dollars in investments from companies tied to South Africa. Over time, the resulting economic stress contributed, along with other factors, to the dismantling of apartheid.
The 26th Amendment, 1971. The 26th Amendment, lowering the nation's voting age from 21 to 18, was ratified on July 1, the result of a multi-year, hard-fought campaign by student activists. Driven by growing opposition to the Vietnam War, and the thousands of young Americans being killed, leaders of the movement argued that if 18-year-olds were old enough to be drafted into the military, fight, and possibly die for their country, they should certainly be considered old enough to vote and help choose their leaders. The measure was passed almost unanimously in both houses of Congress and quickly ratified by 38 states.
Velvet Revolution, 1989. Eight days after the Berlin Wall fell, the students of neighboring Czechoslovakia stepped in to topple their own. The uprising began with thousands and grew until Prague was flooded with 500,000 protestors. Just 11 days after the protests began, the Communist Party of Czechoslovakia relinquished power.
So before you scoff at the youth pushing for the Green New Deal, remember that an unbridled passion can push people pretty far.
After all, nearly 150 high school- and college-aged activists were arrested during the Pelosi protest.
They care so much about this issue that it goes beyond their individual consequences; they just want to be heard by the right person (or people) who will do what needs to be done to enact that change.
It takes open-mindedness and courage to stand up and be a leader – both at the activist and legislative levels.
As of 1/3/19, it doesn't look as though Alexandria Ocasio-Cortez's plan for the Green New Deal select committee is going to come to fruition…
no subpoena power
no rule barring members from accepting fossil fuel money
no directive to craft the action-oriented implementation plan

…but hopefully this isn't the end of the conversation and hopefully our ambitious young activists will continue fighting.