Many people believe that California is a leader in renewable energy generation, particularly solar energy, because of its largely sunny weather. While that's true, there are additional factors that have enabled the state to lead in this sector. Let's take a moment to explore the California renewable energy policies that have helped the state succeed.
For starters, California is the world's sixth-largest economy, with a GDP larger than that of countries like France and India, so it has the money required for renewable energy investments. In fact, as of Q2 2018, California boasted $44,124.40 million in total solar investments. And with the price of renewables constantly decreasing, California is further empowered to lead the world toward a renewable future.
In any list relating to renewable energy generation, you'll likely see California near – or at – the top. With 2,063 solar companies, over 86,000 solar jobs, and close to 6 million homes powered by solar, the state is a hotbed of activity. Let's review some of California's greatest successes in the renewable energy industry…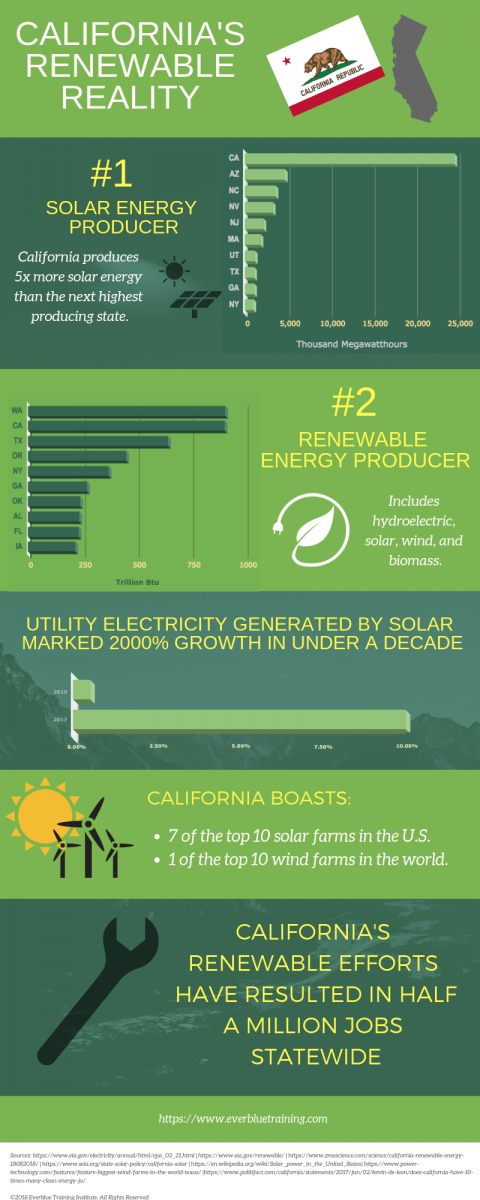 Want to share this infographic on your website? Just copy and paste the embed code below!
Timeline of Renewable Energy Policies in California
How did we get here?
In addition to its geographic and economic conditions, California's state policies have long supported the transition to renewable energy.
2007
Million Solar Roofs Legislation. The California Solar Initiative was introduced, with the intent of installing solar panels on an additional million rooftops of homes and businesses in California by 2018.
2008
Feed-in Tariff. California offered long-term contracts to renewable energy producers as a way of accelerating and ensuring investment in renewable energy.
PACE Financing. City of Berkeley pioneered the model for Property Assessed Clean Energy (PACE) financing, which lent money to a homeowner for a solar system and required repayment via an additional tax assessment on the property for 20 years.
2013
Municipal Rooftop Solar Requirement. Lancaster, CA became the first U.S. city to mandate the inclusion of solar panels on new homes, requiring that "every new housing development must average 1 kilowatt per house." Sebastopol, San Francisco, Santa Monica, and San Mateo later followed.
2015
50% Renewable Energy Goal. Governor Jerry Brown signed legislation requiring California's utilities to obtain 50% of their electricity from renewable energy sources by the end of 2030.
2018
State Rooftop Solar Requirement. The commissioners of the California Energy Commission voted unanimously to require that nearly all new homes in the state be built with solar panels.
100% Renewable Energy Goal. State Senate Leader Kevin de Leon's plan to require California to produce all of its energy from renewable sources by 2045 passed.
With its geographic, economic, and legislative conditions, California is in a favorable place to continue growing the renewable energy industry. The state is already on track to meet its 2045 goals and will need a trained workforce to support its efforts.
If you're interested in joining the solar workforce, call us at (800) 460-2575. Our solar training courses will give you the knowledge and technical skills to join the industry in no time!