We previously wrote about BPI Certification changes back in 2020, but of course the COVID-19 pandemic derailed the pilot and launch of those changes. Three years later, and the Building Performance Institute (BPI) is ready to talk seriously about BPI Certification 2023 changes once again.
Background
BPI's home energy auditor certifications have been highly regarded in the industry for over 20 years. Because building science and energy auditing practices are continuously evolving, BPI likewise updates its certifications now and then to keep pace with industry advances.
The aforementioned talk of changes fell under this cycle. BPI established a Scheme Committee composed of Subject Matter Experts to evaluate the BPI Building Analyst and BPI Envelope certifications against the current state of the industry. Their mission was to compare the existing Job Task Analysis (JTA) for Building Analyst to those of the HEP Energy Auditor and BPI Envelope Professional, to eliminate redundancy.
BPI Certification 2023 Summary of Changes
The Scheme Committee determined the following about the BPI Building Analyst:
It should absorb the BPI Envelope.
It should include energy modeling and work scope development.
It should be broken into two certifications.
It should have BPI Building Science Principles (BPI BSP) as a prerequisite.
Let's discuss these BPI Certification 2023 changes in greater detail…
Similar to this update, BPI had a big update in 2014 to Building Analyst, which beefed up the JTA to almost match Envelope. For the last eight years, Building Analyst and Envelope were nearly identical. So by sunsetting the BPI Envelope designation, BPI will be removing a choice that has long caused confusion anyway.
Ironically, however, by once again beefing up Building Analyst, BPI realized that the new JTA was lengthy and broad in scope. This necessitated dividing the JTA into two certifications once again. The BPI Certification 2023 names are BPI Building Analyst Technician and BPI Building Analyst Professional.
BPI Building Analyst Technician (BA-T) covers data collection and diagnostic testing. Candidates must first earn the BPI Building Science Principles certificate of knowledge before they can attempt the BA-T certification. To earn the BA-T certification, candidates must pass a field exam (no written exam).
BPI Building Analyst Professional (BA-P) covers the principles of using computer software to model the energy upgrade potential of a home and developing a scope of work. A passing score on the BA-T field exam is a prerequisite before a candidate can pursue this certification; and to earn the BA-P certification, candidates must pass a written exam only.
Thus, BPI Certification 2023 will require the following (mandatory) progression: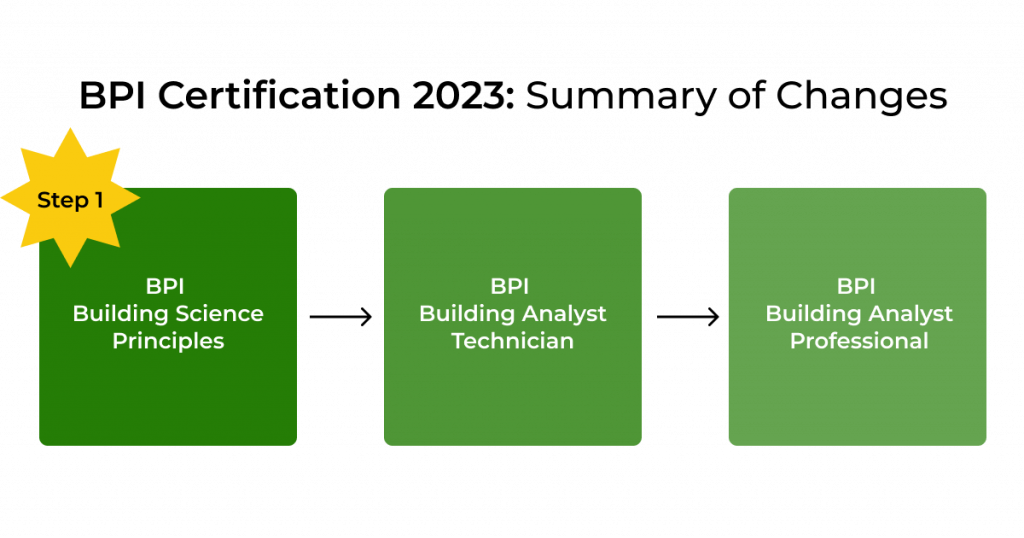 BPI announced these changes in October and stated that the exams for the updated certifications would be available at BPI Test Centers on January 1, 2023.
Given the massive lift for BPI Test Centers, training providers, and the industry at large to understand these changes, we asked BPI about the potential overlap of legacy BPI certifications and BPI Certification 2023 credentials.
In response, BPI agreed to extend the opportunity for participants to earn the legacy BPI certifications through May 31, 2023. They want to still advertise the BPI Certification 2023 credentials but understand that all the stakeholders need time to make the necessary changes to appropriately deliver the new programs. As a result, we anticipate a hard cutover from the old scheme to the new scheme on June 1, 2023.
Stay tuned for more information.