It's always nice to see examples of Lean Six Sigma processes being put into action effectively. Today we will discuss the example of Boeing Lean Six Sigma at a 777 manufacturer in Everett, Washington.
Painting-robots help achieve lean manufacturing
Jason Clark, the director of manufacturing, worked to implement some of the most recent Lean technologies in automation. What is this technology? It is the installation of new robot-painting machines that can wash, apply solvent to remove dirt, rinse, and then spray two different paint types. Traditionally, it would take a team of painters 4-5 hours to apply the first coat of paint on an airplane being built. The robots do it in 24 minutes with perfect quality.
Lean is about streamlining a process. In the case of Boeing, the process improvement task is the painting of the plane. They have automated the process to save time resulting in increased productivity and release of full time employees, who were reassigned to other tasks without hiring people from the outside.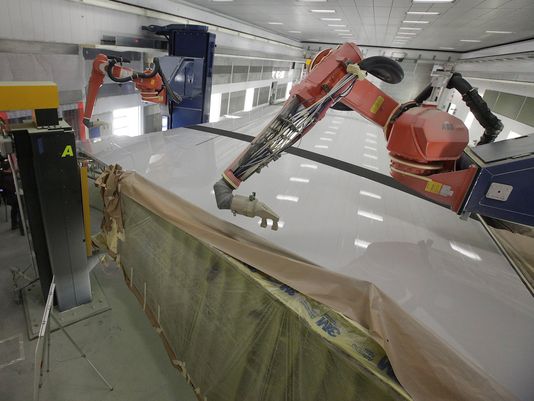 Lean doesn't mean layoff
No layoffs occurred because of the implementation of the new technology either. Half of the 777 wing-painting team was simply redeployed to other roles, such as programming the machines, painting the airline liveries on the fuselage, or working on the sophisticated paint job needed for the 787-9 tails.
"When lean works properly, and this is a perfect example, you increase capacity and you don't lay people off," said Elizabeth Lund, head of the 777 jet program. Lund indicated that the old way of painting manually had become one barrier to increasing the production rate. The painting robot, part of Boeing's lean-manufacturing push, has led to an increase from 84 to 100 jets produced each year.
Inspired by auto industry
Clark cited that his inspiration came from a visit to the BMW factory in Munich where he and his team were wowed by the new factory with hundreds of different automated systems all working together. Few workers are needed to operate the robots. An aircraft factory will likely never achieve that level of 95% automation, as aircraft manufacturing is a 90% manual process. But by applying Lean Six Sigma principles, Boeing continues to raise its production rates to unprecedented heights and master greater efficiency.
To learn more about how you can be more productive in your organization, browse our list of Training Courses or give us a call at (800) 460-2575.