More and more professionals in the home performance industry – HVAC, insulation, general contractors – are being asked to expand their skill sets and offer blower door testing. Why is this?
If you already know whether a BPI or RESNET certification fits your needs, give us a call at (800) 460-2575 and we'll talk you through training options in your area.
If you're still trying to see how you can meet this demand, keep reading!
Building Codes
As the benefits of energy-efficient housing become more clear, legislators are pushing for building codes that contain stricter requirements on building materials and techniques.
Blower door testing is a requirement in the 2012 and 2015 versions of the International Energy Conservation Code (IECC). In several cases, the code indicates that a certified professional must perform the blower door test.
What is Blower Door Testing?
A blower door is a large fan that an energy auditor will position in the opening of a home's main exterior door. The blower door fan is connected to a red tarp that acts as a faux door, blocking out any incoming or outgoing air.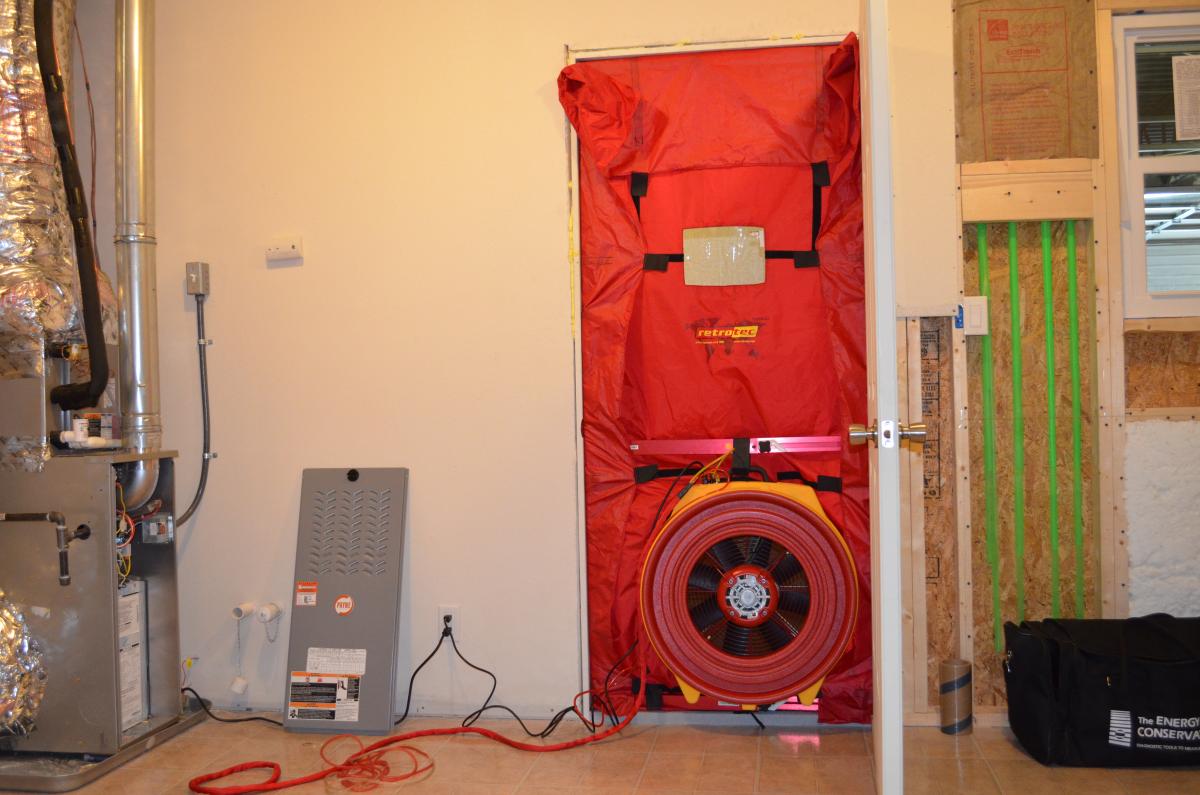 A certified home energy auditor adjusts the settings on the blower door and manipulates conditions within the home to calculate estimated air leakage into and outside of the house. The blower door test enables an energy auditing professional to determine how leaky a home is and to identify the areas in the home that are causing the air loss.
The IECC building code recommends blower door testing because it is a fast way to diagnose energy efficiency problems in the home. Air leakage is a problem for homeowners because it leads to higher energy bills and thermal discomfort.
Blower Door Testing Certification
The two most common energy auditor certifications for blower door testing are:
BPI Infiltration & Duct Leakage (IDL)
RESNET HERS Rater
BPI Infiltration & Duct Leakage
The BPI IDL Certification focuses primarily on the skills associated with setting up a blower door and performing the test.
Some consider IDL to be an entry-level designation because its sole focus on blower door testing as a physical skill set doesn't prepare someone for all the skills to be a whole-house energy auditor. Unlike the BPI Building Analyst Certification, which encourages the "house-as-a-system" approach for evaluating energy efficiency, BPI IDL Certification really only looks at blower door testing.
For this reason, many professionals bundle BPI Building Analyst and BPI IDL Certification in order to bring additional value to their clients – performing blower door testing AND comprehensive home energy audits.
To earn BPI IDL Certification…
To earn BPI Building Analyst Certification…
Pass a written exam
Pass a field exam
RESNET HERS Rater Certification
The RESNET HERS Rater Certification, on the other hand, covers a wide range of energy auditor skills, including blower door testing and home energy audits. Because HERS Rater Certification spans the whole gamut of home performance skills, the process for getting certified can be pretty overwhelming when you first look at it.
* Note that Everblue's HERS Rater Training program includes everything you need to get certified, making it a convenient one-stop-shop experience.
How to become a HERS Rater…
Step 1: Complete HERS Rater training & 2 supervised ratings
Step 2: Pass the National Rater Core Exam
Step 3: Pass the RESNET Practical Simulation Exam
Step 4: Pass the National Rater Combustion Safety Simulation Exam
Step 5: Sign a contract with a RESNET Quality Assurance Provider
Step 6: Complete 3 probationary ratings
Which Blower Door Testing Certification Do I Need?
Unfortunately, this is not a one-size-fits-all answer. Each state has the ability to accept a different version of the IECC code. Furthermore, each state can make modifications to the IECC code as it meets that state's specific needs (see state map of code adoption here). And finally, the IECC code itself does not explicitly name BPI or RESNET – both standards teach blower door testing, so potentially, either can be accepted.
This answer is up to your local code official, or Authority Having Jurisdiction.
Your local code official will be the one validating any permits and ensuring code compliance, so it is in your best interest to align your skills and certifications with this person's preference.
It has been said that code officials look favorably on those with a HERS Rater Certification because much of the code compliance documentation already gets factored into a HERS Rater's home assessment. Working with a HERS Rater is easier for code inspectors because much of the responsibility lies on the Rater to correctly complete the necessary paperwork. Not to mention, the 2015 IECC literally has a HERS compliance path.
Nevertheless, there are regions in the U.S. where the BPI IDL Certification has been deemed sufficient.
Whichever certification you seek, Everblue can provide the blower door training and exams you need. After you've spoken with your local code official and have an answer to which certification will qualify you for this new business, call us at (800) 460-2575, and we'll set you up with training.