The LEED building commissioning process is a highly effective method to improve the performance of building systems and equipment. Coincidentally, the Leadership in Energy and Environmental Design (LEED) standards have the same goal of improving building performance.
If you want to learn more about LEED, visit our New to LEED? Start Here! section.
Building Commissioning – the process of verifying that a building's energy-related systems and equipment are installed and functioning as intended. Those energy-related systems include HVAC, electrical, plumbing, fire safety, and sometimes building security systems and renewable energy systems. Commissioning offers quality assurance during all phases of new construction.
Buildings that are properly commissioned typically have fewer change orders, tend to be more energy efficient, and have lower operation and maintenance cost.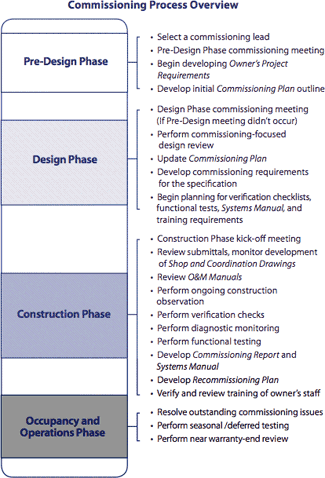 LEED Certification & Systems Verification
The U.S. Green Building Council (USGBC) created the LEED standards over 15 years ago to promote sustainability-focused practices in the building and construction industry. These practices offer a holistic approach to green building, with recommendations that relate to water efficiency, materials and resources, indoor air quality, and more. The LEED Certification program honors buildings that were designed, built, and operated with efficiency in mind.
Having recognized the effectiveness and benefits that commissioning would provide in green buildings, the USGBC decided to include commissioning as a component in the LEED Certification process.
A commissioning agent with LEED knowledge will be able to help project teams meet the requirements of LEED Certification and earn points toward a higher LEED label.
Building Commissioning is addressed in the LEED Building Design + Construction (BD+C) Rating System, specifically in the Energy and Atmosphere section:
Fundamental Commissioning and Verification – required prerequisite
Enhanced Commissioning – can earn up to 6 points
Retro-commissioning is also identified in the LEED AP O+M: Existing Buildings Rating System in the Energy & Atmosphere section:
Existing Building Commissioning – Analysis – can earn up to 2 points
Existing Building Commissioning – Implementation – can earn up to 2 points
Ongoing Commissioning credit – can earn up to 3 points
Commissioning is most commonly associated with energy savings but can also positively impact many of the other LEED credit categories.
One of the changes from LEED Version 3 to LEED Version 4 is that USGBC now requires that a commissioning agent be engaged by the end of the design development phase. In general, LEED v4 has placed an increased emphasis on bringing the entire team to the table earlier in the design process.
Because the LEED standards recognize the importance of building commissioning, there has been a growing market for commissioning services. It is important that commissioning agents understand LEED so that they can better provide their services to their clients.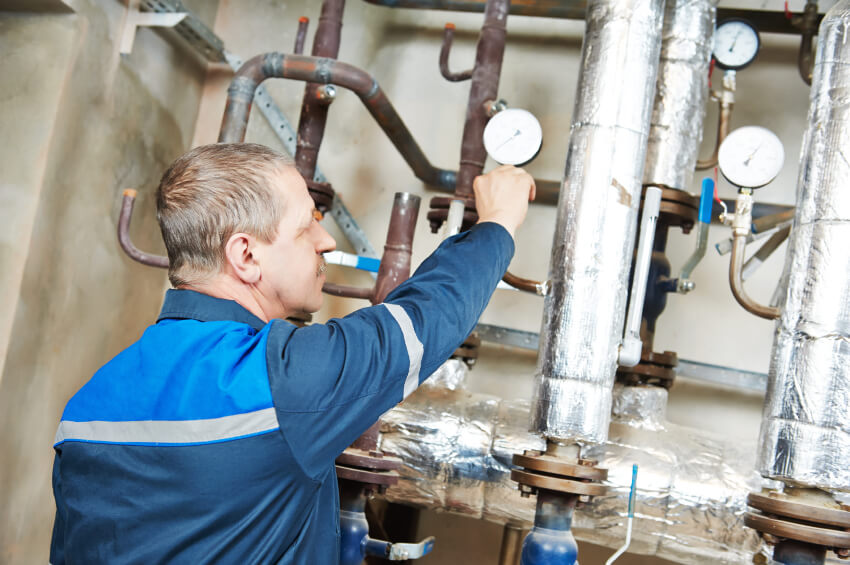 How do Commissioning Agents Use LEED?
Becoming knowledgeable on the LEED requirements is vital for commissioning agents who wish to be successful in entering this rapid growth area. With so much commissioning work coming from LEED projects, having a commissioning agent that is experienced and well-versed with the LEED program makes the commissioning process go much more smoothly.
It is with this knowledge that a commissioning agent can understand the owner's design intent easier and have an easier time reviewing designs and submittals in accordance with LEED guidelines.
Specifically, some of the ways in which commissioning agents contribute to LEED projects include:
Reviewing design plans to ensure they meet owner's objectives and LEED Certification requirements
Providing commissioning services required by LEED Certification requirements
Ensuring that equipment and systems are functioning at the efficiency level for which they were designed
Scheduling site visits and tests throughout the construction cycle to ensure on-going efficiency
Modifying control programs to enhance occupant comfort while reducing energy consumption and increasing operational efficiency
Which LEED Credential Does a Commissioning Agent Need?
First and foremost, all professionals interested in earning a LEED credential must first pass the LEED Green Associate exam. It is the first step for everyone.
After passing the LEED Green Associate exam, a commissioning agent will likely want to advance to the LEED AP BD+C or the LEED AP O+M specialty, as they are directly aligned with the values and services that he/she will be contributing to LEED projects. The only difference is whether the building in question is new or existing.
Because commissioning agents often work on LEED projects, the LEED AP specialty credentials themselves can actually add an extra point to the project in question. This is one of the benefits of having a LEED AP working on such a project. LEED Certification is based on the number of points a project earns, so it's a no-brainer to have a LEED AP BD+C working on a LEED BD+C project or a LEED AP O+M working on a LEED O+M project.
To learn more about how YOU can gain LEED knowledge, give us a call at (800) 460-2575 or enroll in our popular LEED Green Associate Exam Prep course.
Image Source (Commissioning Process Overview): Lawrence Berkeley National Laboratory