Click the graphic to open a bigger version in a new window, and keep reading for more information and links to helpful resources. At Everblue, we can help you become a home energy auditor as quickly as possible!
How to Become a Home Energy Auditor Checklist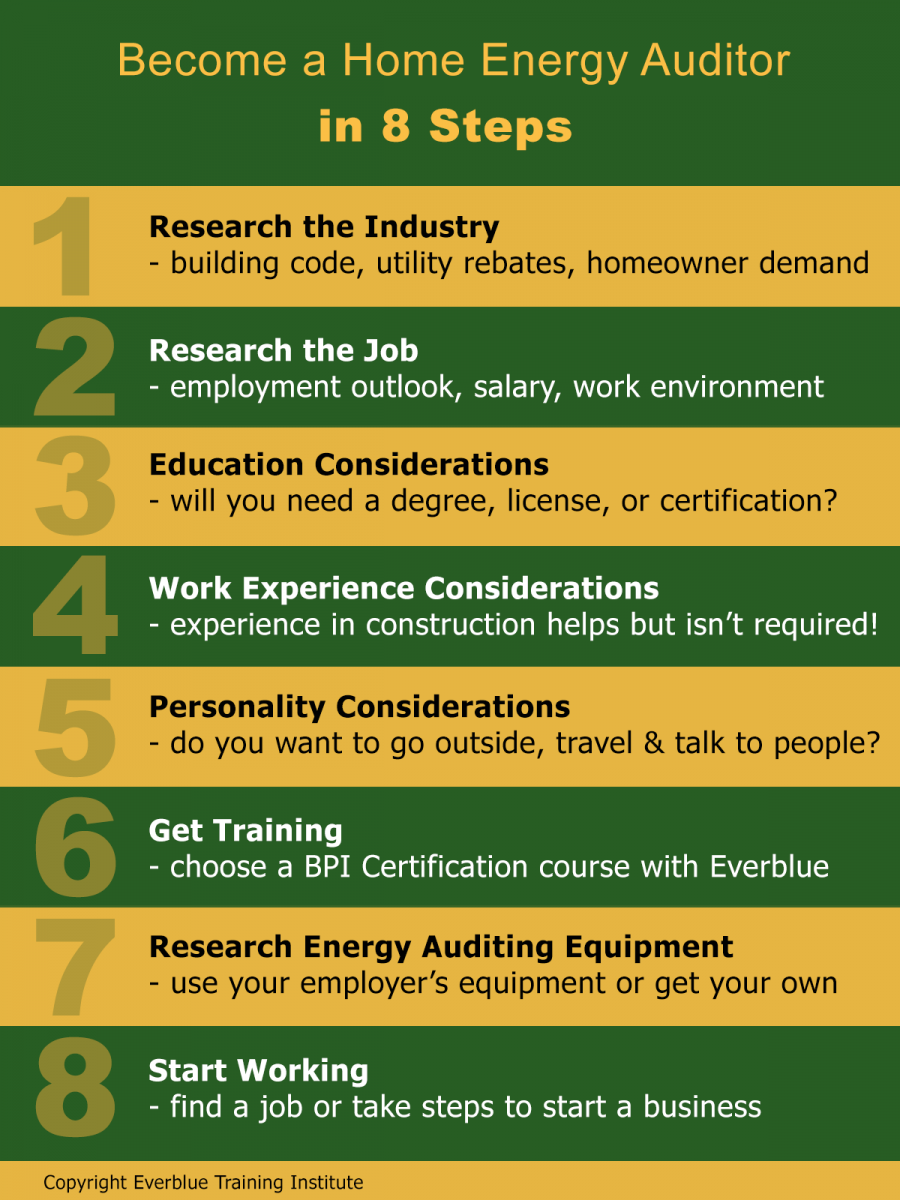 Want to share this infographic on your website? Just copy and paste the embed code below!
Jump to a section
Research the Industry
Learn more about the factors that are driving this industry and that you can be a part of.
The top 3 drivers are typically:
Building Code – a requirement for residential construction
Utility Rebates – for homeowner, builder, appliance, leads to demand
Homeowner Demand – comfort, lower energy bills, improved health/safety
Best resource to find out…
Which code has been implemented in your state: See the Energy Codes website (Residential tab)
Whether there are utility incentive programs in your area: Google (your county) + utility rebate
Whether there are other incentives and rebate programs in your area: See the DSIRE website
Research the Job
What is the employment outlook industry-wide? What is the expected salary? What is the work environment?
Best resources include…
Education Considerations
Do you need a degree? Is there a state license? What industry-respected certifications exist?
It may be helpful to have a bachelor's degree, but it is not required.
There is no such thing as a state license for home energy auditors. However, these professionals do typically have licenses in HVAC, general contracting, or plumbing and add an industry-respected certification on top for additional marketability.
There are two organizations that offer home energy auditor certification:
Though both organizations publish guidelines on how to become a home energy auditor, their guidelines differ in some ways – after all, BPI and RESNET are two separate organizations.
If you are interested in home energy auditing as a way of meeting building code requirements, you might be surprised to learn that:
the building code will not explicitly say which home energy auditor certification is required
therefore, building code officials at the city level are responsible for interpreting the code and confirming what's accepted
so, you should contact your local code official and see whether they prefer BPI or RESNET in your area
Helpful resources include…
Work Experience Considerations
There are no work experience requirements to qualify for a home energy auditor certification. That said, you will have a natural advantage to passing the certification exams if you do have 1-3 years of experience in construction, energy conservation, building diagnostics, or general contracting.
Learn more:
Personality Considerations
Bearing in mind that the work environment involves interacting with people, traveling, and physical labor, what type of interpersonal skills and work ethic characteristics will you need to be successful as a home energy auditor?
Learn more:
Get Training
Once you've decided that a career in home energy auditing is right for you, contact Everblue to begin the training process!
We offer courses to prepare you for BPI Certification and/or RESNET HERS Rater Certification.
Get started:
Research Energy Auditing Equipment
If you decide to work for a home performance company, you will likely use the energy auditing equipment provided by your employer.
If you decide to start your own business, you will need to buy the equipment yourself.
Having gone through a BPI training course at this point, you should have a good idea of which pieces of equipment you'll need. But, as a reminder, you'll want to make sure that your equipment list includes:
Blower Door
Duct Blaster
Gas Leak Detector
Ambient CO Monitor
Mirror
Manometer
Combustion Analyzer
Pressure Pan
Fan Flow Meter
Of course you'll also want to research which brands sell equipment and compare prices from there. The 3 best-known companies for energy auditing equipment are:
Equipment prices will vary depending on which brand you move forward with and whether you buy new or used equipment. But to get an idea of how much to allocate for equipment, see our post here about How Much is Blower Door Equipment?
If you enroll in an Everblue BPI course, you automatically get equipment discounts from these three companies.
Start Working
What's great about the home performance industry is that it's growing. There are opportunities nationwide to work for an existing business or to start your own.
How to find an energy auditing job:
Google "home energy auditor jobs." This will bring up links to job sites like Indeed, Glassdoor, and ZipRecruiter. From there, you can narrow down the results by location.
Things to research if you want to start a business:
Fundamentals – name, logo, website, phone number, email, etc.
Business goals
Competitive analysis & pricing
Grants and loans
Trademarks & copyrights
Tax IDs
Marketing materials
Become a Home Energy Auditor
Now what's stopping you?
Hopefully the information and resources above help put you on the right track to researching this new career opportunity. If you have any other questions, please give us a call at (800) 460-2575.