The weather is getting colder so why not utilize your extra time spent indoors enjoying one of these classic pieces of environmental literature. Go ahead and cozy up with any of the following sustainability books:
1) Silent Spring by Rachel Carson
Every once in a while, a book comes along that has such a profound effect on society that it creates a movement for awareness and change. Rachel Carson's book, Silent Spring, is one of those. Silent Spring discusses the dangers of dichlorodiphenyltrichloroethane, or DDT. It methodically described how DDT entered the food chain and accumulated in the fatty tissues of animals, including human beings, causing cancer and genetic damage. A single application on a crop, she wrote, killed insects for weeks and months, and not only the targeted insects but countless more, remaining toxic in the environment even after it was diluted by rainwater. The most important legacy of Silent Spring was a new public awareness that nature was vulnerable to human intervention. Conservation had never raised much broad public interest, for few people really worried about the disappearance of wilderness. But the threats Carson had outlined — the contamination of the food chain, cancer, genetic damage, the deaths of entire species — were too frightening to ignore. For the first time, the need to regulate industry in order to protect the environment became widely accepted, and environmentalism was born.
2) A Sand County Almanac by Aldo Leopold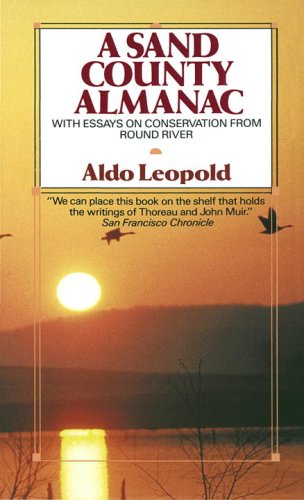 A Sand County Almanac is a wonderful book about conservation and the need for a human conscience toward the use of land. The first twelve chapters are great descriptions of nature and the way plants and animals interact with each other for survival. The following chapters are about different places that the narrator has visited, and he takes the reader through amazing journeys through his memories. Land ethic is the main argument of this book. It states that people should care less about what they can gain monetarily from the land and more about what they can gain in the long run from engaging in long-term sustainability of it.
3) Walden by Henry David Thoreau
In Walden, Henry David Thoreau sets out to live his life without distractions by a body of water known as Walden Pond. He did not aim to live cheaply; instead he wanted to spend time gaining insight from his own private solitude. He sought to live simpler than the average man of his time. Thoreau spends a great portion of the book discussing the differences between luxuries and necessities, including why he feels that a simpler life is a better life.
4) The Outermost House by Henry Beston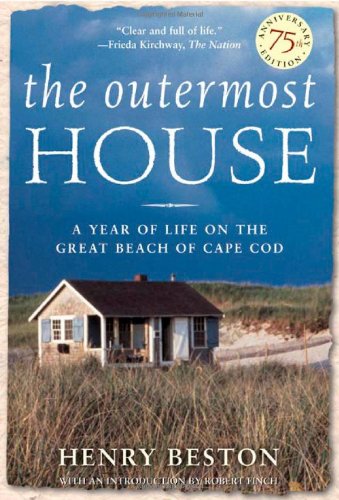 The best nature-writing, it seems, brings together a place, a time, and a personality in such a way that, after we've read the book, the writer's experience, and something of his or her personality, seems to be our own. In The Outermost House, Henry Beston presents a depiction of Cape Cod in the mid-1920s. Beston was in his mid-thirties when he stayed on the Cape in a cottage across from Salt Pond. His enjoyment led him to embark on plans for a little cottage of his own in the dunes. It was rumored that Beston may have gone to the beach to be alone and rid himself of the post-traumatic stress caused by his war experiences. Unlike Thoreau, he had no real agenda when he began his journey with nature (at least none that he ever went into detail about). His writings demonstrate the value of a simple, self-reliant lifestyle and showcase his interpretation of the natural world. The Outermost House benefited only from modest success at first; however, later on, Beston won several awards and honorary doctorates because of it. On October 11, 1964, the U.S. Department of the Interior created the Cape Cod National Seashore and declared The Outermost House a national literary landmark.
5) An Inconvenient Truth by Al Gore
This book was inspired by a series of multimedia presentations on global warming that former Vice President of the United States Al Gore created and currently delivers to groups around the world. In An Inconvenient Truth, Gore writes about the urgent need to solve the problems of climate change, presenting graphs and information on all aspects of global warming in a direct, thoughtful and compelling way. This book is great for those who prefer a visual style of learning. It's packed full of pictures and diagrams that help bring complex concepts to light.
6) Cradle to Cradle by William McDonough & Michael Braungart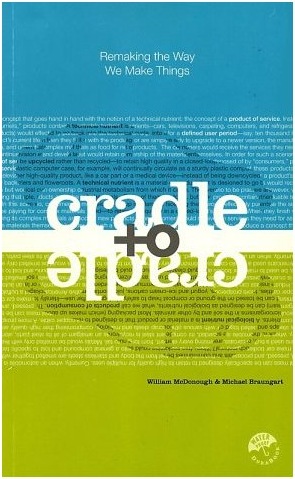 One of the key premises of McDonough and Brangart's Cradle to Cradle is that minimizing waste just isn't good enough. Instead, the authors propose that we change our entire design processes so that reuse and nourishment are built right into the process. Instead of minimizing waste, we create value. Moving from a Cradle-to-Grave philosophy to a Cradle-to-Cradle philosophy requires a move from eco-efficient to eco-effective.
7) Hot, Flat, and Crowded: Why We Need a Green Revolution–and How It Can Renew America by Thomas Friedman
Pulitzer Prize-winning author Thomas L. Friedman speaks to America's urgent need for national renewal and explains how a green revolution can bring about both a sustainable environment and a sustainable America. In this sustainability book, Friedman explains how global warming, rapidly growing populations, and the expansion of the world's middle class through globalization have produced a dangerously unstable planet–one that is "hot, flat, and crowded." The challenge of a sustainable way of life presents the United States with an opportunity not only to rebuild its economy, but to lead the world in radically innovating toward cleaner energy. And it could inspire Americans to something we haven't seen in a long time–nation-building in America–by summoning the intelligence, creativity, and concern for the common good that are our greatest national resources.
8) Plan B 4.0: Mobilizing to Save Civilization by Lester Brown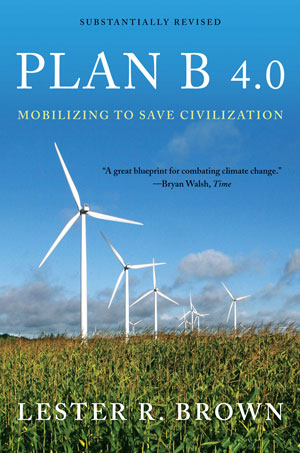 As fossil fuel prices rise, oil insecurity deepens, and concerns about climate change cast a shadow over the future of coal, a new energy economy is emerging. Wind, solar, and geothermal energy are replacing oil, coal, and natural gas, at a pace and on a scale we could not have imagined even a year ago. For the first time since the Industrial Revolution, we have begun investing in energy sources that can last forever. Plan B 4.0 is one of those sustainability books that explores both the nature of this transition to a new energy economy and how it will affect our daily lives.
9) Eaarth: Making a Life on a Tough New Planet by Bill McKibben
In Eaarth, McKibben presents an array of facts and statistics about changes that are already visible in the world around us, supported by extensive footnotes. "Eaarth" is the name McKibben has decided to assign both to his book and to the planet formerly known as Earth. His point is a fresh one that brings the reader uncomfortably close to climate change. Earth with one "a," according to Mc­Kibben, no longer exists. We have carbonized it out of existence. Two-a Eaarth is now our home. On two-a Eaarth, we are way past the bearable threshold — 350 parts per million — for carbon dioxide in our atmosphere, and well down the road to a devastating 650 parts per million. Our hope depends, McKibben argues, on scaling back—on building the kind of societies and economies that can hunker down, concentrate on essentials, and create the type of community (in the neighborhood, but also on the Internet) that will allow us to weather trouble on an unprecedented scale. Change—fundamental change—is our best hope on a planet out of balance.
Be sure to follow us on Pinterest for these and other interesting sustainability books on our board "Books We Recommend." We will continue updating this board, so keep checking back for new recommendations on sustainability books!
If you'd like to take your interest in sustainability even further, check out our course catalog! We offer short vocational training classes that cover topics in green building, solar energy, corporate sustainability, and home energy auditing.