Achieving LEED certification for a building is the ideal beginning to sustainability efforts. But, to stop at certification would be akin to an athlete training to peak condition, qualifying for the Olympics, and showing up to compete in a stadium without any spectators. The LEED Certification process "trains" a building to perform at optimal levels. Owners and occupants must put the building to the test and verify levels of performance.
How do owners and occupants account for what is happening within the building to ensure that performance standards are met? How will they extend sustainability principles into the ongoing operations of the building?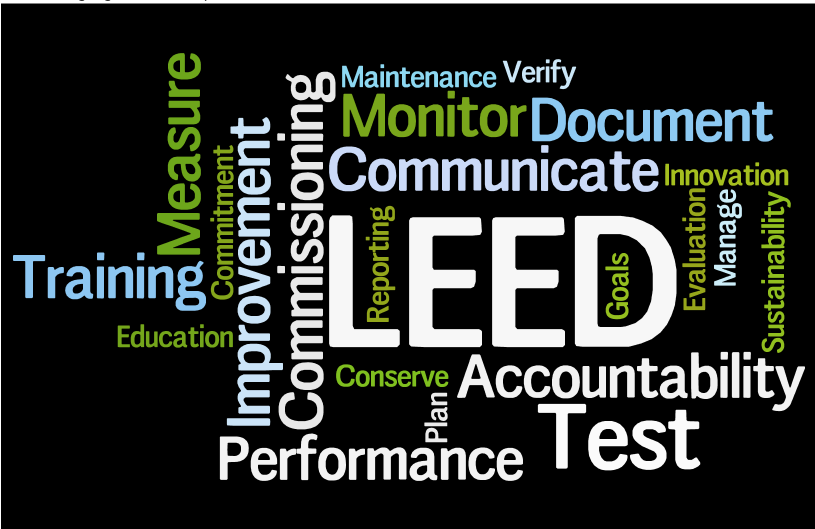 LEED Certification – Now What? Listed below are five steps to follow after LEED certification to extend sustainability and performance beyond the plaque on the wall:
Develop a plan to ensure that the building continues to minimize environmental impact. A long-term sustainability plan must take into account what is happening within the building. Putting a green team in place is a good start to set goals, establish and manage processes, evaluate impacts, and identify opportunities for improvement.
Be accountable to the plan by integrating it into core strategies. Adopt a reporting process to document and communicate goals and results both internally and externally.
Measure all aspects of building operations on an on-going basis to monitor performance and plan corrective action. Go beyond water and energy management to address waste management, recycling, life cycle assessment, and green purchasing policies.
Building commissioning is a process that seeks to improve the performance of building systems and equipment through planning, documenting, testing, adjusting, and verifying. Major building systems that are typically commissioned include lighting, HVAC, hot water, renewable energy, and building envelope. Although building commissioning is a prerequisite for LEED, this quality assurance-based process can be applied continuously throughout the life of a building.
The USGBC expects to strengthen the guidelines for commissioning in the updated LEED standards that are targeted for release some time in 2013.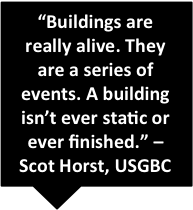 At this year's Greenbuild Conference & Expo, there was a strong focus on making LEED more performance-based. The goal is to close the gap between LEED's projected energy consumption for a building and its actual performance. Industry leaders were asking, "How can we make it easier to validate performance?" Scott Horst, senior vice president of LEED at the USGBC, introduced a new concept that would give building operators and occupants access to real-time data to indicate how a building is performing at any moment in time. Horst is among those who are supporting the development of a program to install LEED dynamic plaques in LEED-certified buildings. A LEED dynamic plaque would replace the typical LEED plaque in a building with one that displays real-time energy usage of the building. This plaque is currently in development and will validate performance in five categories. It will also serve to alert building operators of any potential problems. Stay tuned for more on this exciting performance monitoring innovation and other changes from the USGBC to promote performance.
Continuous education and reminders for building operators and occupants are a critical part of any building's sustainability strategy. As technology advances and systems improve, it is important that users are trained to operate systems to their full potential and address any problems. In addition, occupants must be mindful of their own consumption within the building.
Maintain the building properly according to system requirements, warranties, regular visual inspections, and test results.
LEED certification sets the foundation for energy efficiency and sustainability but does not guarantee performance. While the USGBC continues to take steps to integrate performance into the LEED process, it is up to building owners and occupants to extend their commitment beyond certification to monitor, maintain, and manage building operations. Establishing a process for continuous performance evaluation and corrective action is key to getting the most from LEED certification.