What better way to spice up your home for fall than by utilizing materials you already have–and maybe some that you were going to simply throw away! Not only will you be saving these products from ending up in the landfill, but you will also be saving yourself from purchasing new decorations made from plastic in a far-off factory, possibly under questionable labor conditions. Fall is a great time for crafting, so we're here to here you put together a green Halloween!
If you think you don't have the craft skills to pull off making your own decorations, don't despair! There are projects here for crafters at any skill level. Read below to get started with your own recycled Halloween decorations.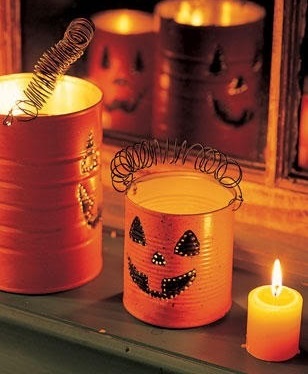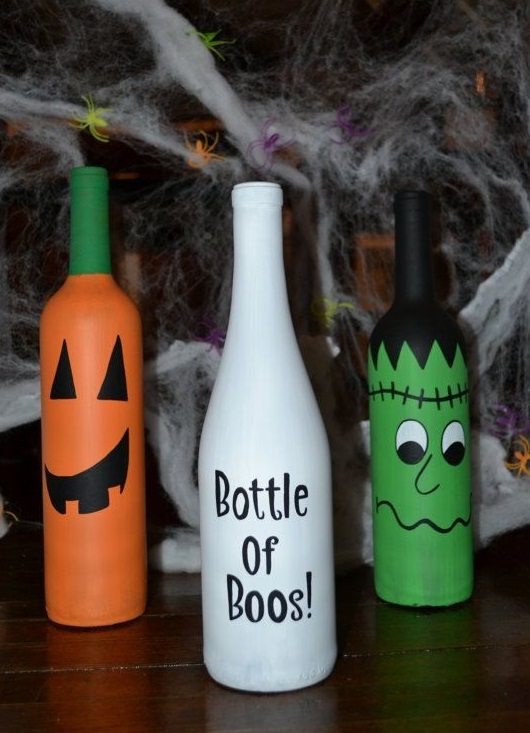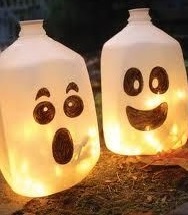 1) Cardboard Rolls Transformed into Halloween Favor Boxes – Empty cardboard toilet paper rolls are one thing that everyone seems to have. Try painting the empty rolls with acrylic paint then add jewels or pipe cleaners to make a black cat or pumpkin face. For a different look, cut a long piece of curling ribbon and tie around the cylinder. Leave the excess ribbon hanging off and curl. You can fold the ends inside to be filled with tiny goodies and passed out at your party.
2) Halloween Wine Bottles – This is a great way to re-purpose wine bottles into a fun décor item for a table or display shelf. Start by removing the labels from your bottles and make sure that all of the residue is gone. Next, depending on the design you want, tape off part of the bottle with painters tape. Depending on what kind of design you choose, you may want to paint the entire bottle first and then tape off parts of the design features. Once the bottles are taped, sprayed, and dried, you can add details with paint pens.
3) Solar Jack-o-Lantern – For this craft, you will need a glass bowl, masking tape, paint, and a solar walkway lamp (the kind that you can twist the top portion off). Using the masking tape, cut out the facial features for your jack-o-lantern. Tape them on the outside of the bowl. Completely spay the entire bowl with your spray paint (low-VOC recommended) and a second coat if needed. After the paint dries, peel the tape off and fill in the facial features with black permanent marker. Then insert the solar lamp base into the bowl. You now have a reusable pumpkin for Halloweens to come!
 4) Painted Soup Cans – A little paint can go a long way to add flare and personality to your tin cans. You can even decorate a set of cans and use them to spell out a word like "Boo!" Poking holes in the cans can allow light from a tea light or a candle to shine through, providing an additional element to your design.
5) Spirit Jugs – If you go through gallons of milk each month, why not save your empty milk jugs to make into something new and fun? These simple yet charming milk jug ghosts cost nearly nothing to make, and they are a "scream" to put together. Simply draw ghost eyes and a mouth on clean plastic milk jugs. Then use a craft knife to cut a half-dollar-size hole in the back of each jug. Arrange the ghosts near each other and then string them together using a set of clear low wattage holiday lights. What a great way to greet your trick-or-treaters!
For pictures and step-by-step instructions on how you can make these and other green Halloween crafts, check out the "Green Your Halloween" board on Everblue's Pinterest Page. Check back in November for Part 2 of our recycled décor series focusing on DIY Thanksgiving decorations!