The advent of corporate social responsibility (CSR) reporting in sustainable business practices led to the implementation of social, environmental, and economic awareness in operational processes. The increasingly competitive market coupled with diminishing natural resource availability has forced companies to devise methods to transcend their business beyond the traditional operational confines, toward a more structured approach: the Triple Bottom Line. With an emphasis on people, the planet, and profit, companies following a CSR approach are able to effectively administer a system that meets the needs of internal and external stakeholders.
Given the complexity of the sustainability reporting process, there is a need to balance business needs and financial success with the maintenance and subsistence of outside entities such as the environment and individual health and safety, to name a few. However, with the challenges inherent in the reporting process, it is necessary to underline potential issues that may arise when using a CSR strategy.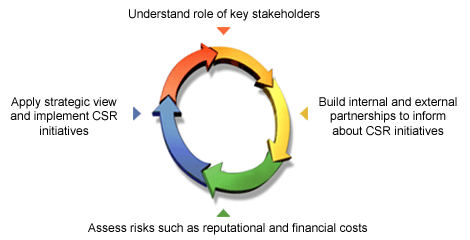 According to the Network for Business Sustainability, companies using sustainability reporting as a business function should avoid the following 10 issues or mistakes:
1) Insufficient Goal Setting: Fundamentally, companies must ensure that their CSR reports accurately reflect the overarching goals of the organization's sustainability strategy. Focusing exclusively on easily attainable goals or goals that will not make significant differences to the Triple Bottom Line make for weak operational change toward sustainability. Instead, companies should juxtapose easily attainable goals with more long-term strategies that are both complex and achievable.
2) Mismanaged Data Collection: In general, the worst mistake companies can make is to report findings using missing or incorrect data. To effectively ensure a successful CSR report, companies must have clear and consistent data handled by qualified professionals.
3) Unequal Priorities: Instead of companies focusing more on financial performance over CSR reports, there should be equal weight placed on both. Addressing financial concerns in conjunction with sustainability reports is necessary for companies seeking to address stakeholder concerns by providing equal levels of transparency.
4) Neglecting Feedback: Businesses must ensure that their CSR reports are optimized for a captive audience that includes investors, internal stakeholders, and customers. Providing third-party verification measures such as report audits and stakeholder panels can verify the authenticity and accuracy of sustainability reports.
5) Framework Deviation: One of the most common mistakes companies make when using CSR reports is to underutilize or neglect popular reporting frameworks such as the Global Reporting Initiative (GRI) as a necessary function for optimizing sustainability reports via report standardization.
6) Inadequate Comparisons: To make the most out of a sustainability report, companies should seek to compare results not only to internal benchmarks but also to other companies with similar scope, business function, and sustainability standards.
7) Unattainable Targets: Although a company's CSR report should not include an exclusive set of easily attainable goals, there is likewise the fact that a CSR report should not contain goals that are impossible in the timeframe established for sustainable initiatives.
8) Underreporting: While the information found in a CSR report is important in describing business sustainability initiatives, it should not be the only resource used to discuss progress. Providing information across a variety of internal and external sources can provide greater context to a company's progress toward achieving the Triple Bottom Line.
9) Short-Term Thinking: Corporate sustainability initiatives work best when they are evaluated over a longer period of time (generally considered to be at least five years for CSR reporting), rather than creating short-term operational outlooks. Long-term sustainability reporting can provide greater opportunities for success in sustainable operations as companies are able to adequately monitor return on investment (ROI) and generate more opportunities for goal completion.
10) Unrecognized Greenwashing: Before a company publishes a sustainability report, the following question must be asked: Does the CSR report contain sufficient positives and negatives, or does it strictly focus on the success of sustainable initiatives? In order to appear transparent and accurate, companies must find a balance between discussing the positives of CSR, while also delving into the challenges and solutions to successful achievement of sustainable goals. Failing to do so will cause internal and external stakeholders to question business motives and may damage reputations, as reports that are only positive in nature are perceived as a form of greenwashing, or promoting sustainable products/operations when in actuality, the opposite is true.
According to the Environmental Investment Organization, only 37 percent of the world's largest companies report their greenhouse gas (GHG) emissions fully and correctly. Likewise, the Environmental Tracking Carbon Rankings, which examines GHG emissions and transparency of the 800 largest companies worldwide, found that only 21 percent of companies used external verification when reporting sustainability data.
In order to maximize CSR reports to accurately reflect goals and strategy implementation, companies must avoid the aforementioned mistakes while simultaneously working toward accurate reporting measures. The complexity of CSR is one of the reasons for the growing demand for qualified professionals capable of addressing company sustainability needs.
Everblue currently offers an ISSP Sustainability Associate course, which informs prospective and current sustainability professionals on methods to implement sustainable business practices. For more information, please contact us at [email protected] or call us at (800) 460-2575.